And just like that we have entered the last month of the year, December. The team here at Becketts Farm are gearing up for our busiest time of year. The 18ft Norway Spruce has arrived outside the Farm Shop. Its sourced from Woods Farm just down the road, who also supply the Covent Garden tree too. The maintenance team had great joy adorning it with fairy lights, but not so much joy untangling them beforehand. It looks wonderful and certainly gets me into the festive spirit.
Here at Becketts Farm, I am very much about giving the team autonomy to run with their own ideas and product buying choices and each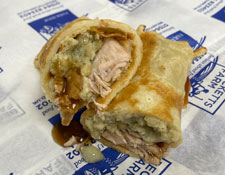 Christmas they wow me with their ideas and creativity. They are closest to our customers, and they know what sells and what doesn't so it makes sense to leave these decisions to them.
Our Hot Food Counter have brought back their sell-out turkey or pork Yorkshire pudding wraps, with all the trimmings. Alongside these they are also serving our famous Pork baps with stuffing and gravy. Served every day throughout December (subject to availability).
Fresh Turkey orders are still being taken, so if you've still not got that job ticked off the list then get in touch with Mark and his team today. The turkeys are farmed in the village by the Caldecott family, so you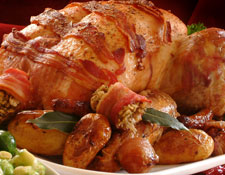 really can't get any more local than that for your Christmas table this year.
Our gift hampers team continue to astound me with the selections they put together. Who doesn't love a food and drink filled hamper to delve into on Christmas day! Purchase a pre-made hamper here or put together a unique hamper with our gifts and goodies team in store.
Our team of Chefs have put together a delicious festive menu in the Restaurant which will launch next Friday 9th December. I hope we can welcome lots of familiar (and new!) faces to enjoy a festive get together in the Restaurant. Our Cookery School will once again host a Christmas Dinner and Desserts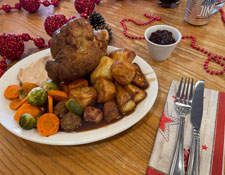 Masterclass, and there is still space available on our Christmas Dinner Masterclass on Monday 19th December. You can book online if you want a Christmas feast to remember this Christmas Day!
This month, we have welcomed another new partner business to site, Black and Golds, who've opened an office here for Mortgage Advice services. They are located in the Bakery House, which is near to the rear Restaurant entrance. Please support them by popping in or taking a look at their website, if you're looking for Mortgage Advice services at present or in the future.
The likelihood is that I may not write another installment of my blog until after Christmas Day has passed. So I would like to take this opportunity to wish you a wonderful Christmas. Enjoy spending time with family and friends, pop and see us this December.
Until next time
S.B.