Finally, comfort food season has arrived. As the nights draw in and the temperatures drop, hearty stews and casseroles are on the menu. Slow cooking in this way can be time-consuming so batch cooking becomes your best friend at this time of year. The Becketts Farm butchery counter have a fantastic range of meats which lend themselves perfectly to slow cooking, and some great offers also!
Hearty casseroles and stews can be made with traditional diced beef or lamb, but how about trying something a little different? For those who like to experiment, diced venison and diced goat make flavoursome alternatives.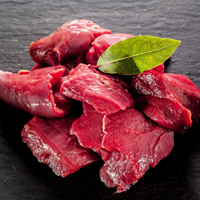 Venison is a rich meat delicious in stews with a generous glug of red wine and served with dark leafy greens. Goat meat has long been popular in Caribbean cuisine. It is great in stews or even curries with a sprinkle of spice for added warmth. Both have huge depth of flavour and are just as easy to cook as the more popular stewing meats. Ask our butchers for advice on cooking times and flavour pairing.
Cooking in the latter half of the year is an absolute joy with the bounty of fresh local produce creating the perfect ingredients for wholesome dishes. With locally grown root veggies and meats sourced from within 50 miles of the Farm Shop, you can honestly cook a truly local comfort food dish. Right now in the Farm Shop we have an abundance of GIANT cauliflowers from Gloucestershire. Think cauliflower cheese, soup with bacon lardons, or even made into pakora for that goat curry.
Bonfire Night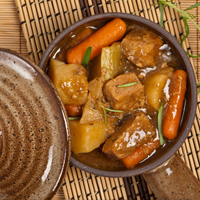 Wrap up warm and head out for a walk at one of the counties fantastic parks or to your local firework display, but don't forget to pop this tasty Pork and Apple Casserole in the slow cooker before you do. Everyone will thank you for the amazing aromas that greet you upon your return, and it is sure to warm you all up as you tuck in together.