Let's begin with the most important news – sunflower field update!
With May heading towards the wettest on record, it is no wonder our sunflower field has taken a battering. Unfortunately, our sunflowers have been attacked by slugs and jackdaw birds. You'll see from the photos here – a comparison from what the crop looked like this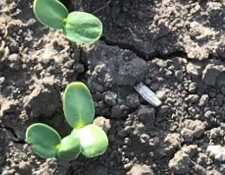 time last year and what it looks like today.
This late, cold and extremely wet weather is any farmer's nightmare, particularly when it affects the crop so significantly. We of course try to prevent the attack of slugs and jackdaw on the fields and we do this by having falcon kites and gas guns. However, this year they do not seem to be phased by this!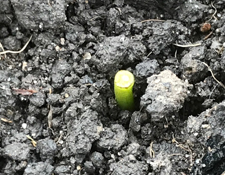 Anyway, we grin and bear it and hope that there will be some beautiful flowers to still visit this summer, even if it is not quite as magnificent as last year. Keep your eyes peeled on our Facebook page for further updates.
Renovation work continues at our Fulford Barns and we hope to have these completed by the end of September. There are still 2 barns for sale as well as a small cottage opposite Fulford. This is up for auction on the 22nd of June.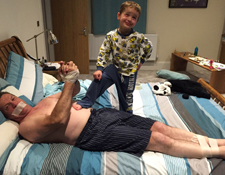 I was reminded of my grandson's cheekiness earlier in the week when my son, Liam emailed me this photo memory. Sadly, because of the Covid restrictions I have been unable to get over to South Africa to visit my son and his family. With what is usually an annual visit at Christmas, it is looking highly likely that I will not be visiting until Christmas 2022.
I celebrated my birthday earlier this month and was very lucky to receive the gift of a flight in a Spitfire. I flew down to North Weald, Essex which is where the Spitfire base is and got on board the two-seater Spitfire. We flew down to the Thames and along the estuary, back to base through Essex. This experience was truly amazing and certainly one I will talk about in years to come.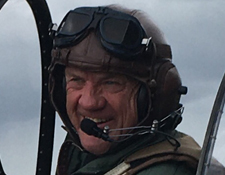 What a great first two weeks the Restaurant has had being back open. It has been so lovely to hear the chattering and laughter when having my morning coffee. Here is a handy little link to pre-book your table in our Restaurant. Thank you for your continued support and we look forward to welcoming more of you back over the coming weeks.
Until next time
S.B.