It's that wonderful time of year, when we turn to hearty and rich comfort foods for breakfast, lunch and dinner! Packed full of flavour and nutrients, from stews to soups, porridge to puddings the ability for winter food to boost our health and our mood shouldn't be underestimated.
Healthy and Hearty
At this time of year, fresh root vegetables are in season in the UK and packing them into homemade soups and stews is a delicious way to 'diet'. Cooking meals from scratch and knowing exactly the ingredients you've used is much better than eating packaged and processed foods and in some cases many 'fad' or 'quick fix' diets.
The best thing about soups or stews is maximising the nutrients you add in, by using up odds and ends from the fridge. Plus, you save on food waste too!
Try this recipe for Spiced Root Vegetable soup.
Building up flavour in a slow-cooked beef stew or creamy chicken casserole can take time and expertise,
but the delicious spice blends from Pureety can help speed up the process. We sell a range of these in our farm shop, including seasonings for chicken, beef, sausage or lamb casserole, cottage pie and shepherd's pie.
When it comes to roasting joints, think beyond the traditional Sunday roast. Slow-cooking lamb shoulder with dry spices and serving it in flatbreads with herby yoghurt, roasted sweet potato and pickled red cabbage would be a superb switch-up to the usual. The Mrs Darlington's range in store includes a lovely pickled red cabbage if you don't fancy making it from scratch.
'Calories don't count'
There's another type of comfort food, in which rich flavours and ingredients are piled up to the max! We won't lie, the calories in these aren't negotiable – they exist for sure. But cooking lavish and rich dinners from scratch in your own kitchen to share with family is good for the soul. Meals like these can still be very balanced, so there's no need to feel guilty when indulging on them.
The types of meals we mean are things like:
Creamy macaroni cheese loaded with pasta, cheese, cream and crispy bacon
Steak and ale pie made with homemade buttery pastry or EVEN BETTER as a suet pudding.
Rich and gooey chocolate puddings, like these Melt in the Middle Espresso Martini Brownies
Sticky chicken traybakes with your favourite marinades. We love this recipe idea from Mrs Darlington's for 'Spicy Tomato and Sticky Onion Chicken' using their tomato and sticky onion chutney which we have on our Farm Shop shelves.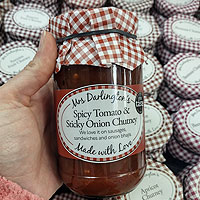 If you're conscious about the calories, make simple swaps. For pies, try a lighter filo pastry topping. Even a crumble topping on savoury pies goes down well (best paired with chicken or vegetables) and can be made with wholemeal flour and a low-fat butter alternative, with the addition of herbs, oats, nuts or low-fat grated cheese for added flavour and texture. Switch to wholemeal pasta, cauliflower or peas to your macaroni cheese.
Puddings please
We did a VERY official survey in the Becketts Farm office and when comfort food and puddings collide, there can only be one choice – crumble!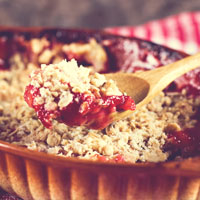 It might not be the season for berries just yet but forced rhubarb can be expected on the shelves in the next couple of weeks.
Rhubarb crumble is a firm favourite, and this recipe for a Rhubarb and Apple Flapjack Crumble is perfect served with your go to accompaniment – ice cream, cream or custard.
For top quality British dairy cream, locally-produced ice cream from Bennetts Farm and luxury custard, you can always trust our Farm Shop.