Many people are familiar with pairing wine with food, if not to an expert level then at least to understand some basics. Crisp whites with chicken or fish and bold red with rich roast beef for a start. However, perhaps you've never considered the world of beer pairing!
For expert brewers and beer connoisseurs, beer pairing makes sense. Balancing different varieties of bitter hops and sweet malt in beer production, along with various brewing methods leads to a wide array of beer tastes and mouthfeels. Even more interestingly, beers can taste entirely different depending on the mineral content of the water used to brew. Therefore, the variety of flavours in beer call for different meals to match.
What's even better is that beer is much more accessible than wine. Tasting a range of local, UK and worldwide beers won't set you back anywhere near as much as wine. The opportunity to experiment, enjoy and find your favourite combinations is vast!
To celebrate National Beer Day on the 15th June, we've put together a starting point for some of the great local beers that we stock in the Farm Shop, and what we like to pair them with!
Lager
Lawless Unfiltered Larger by Purity Brewing Co. (Warwickshire)
Lager, has a hoppy, bitter edge with a touch of sweetness. It is best matched with salty foods. Over the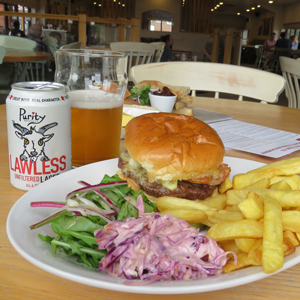 summer months think giant antipasti boards in the sun to graze on all day long. Olives, cured meats and piquant sundried tomatoes washed down with a pale golden beer. It's been a Farm Shop staple product for years now, and our Restaurant have just started serving it too. We think it is perfectly paired with our Gourmet Beef Burger. It's totally delicious when matched with that rich, prime minced steak, mature cheddar and seasoned fries!
Did you know? Lager is named after the maturation process of the beer. Lager is a verb too! Lagering is a form of beer maturation on the yeast that usually lasts for several weeks, if not months, at or near-freezing temperatures, after fermentation. Lawless is lagered for 40 days.
Find out more about this excellent beer on the Purity website and pop in to pick up a bottle or pack of cans to try for yourself.
Pale Ale
Bunny Hop Pale Ale by Purity Brewing Co. (Warwickshire)
Pale Ales are characterised by plenty of hops. The more citrussy, piney, bitter, tropical-fruity flavours and aromas that can be drawn from the hops, the better.
Pale ale is a great match for gently spiced and roasted chicken or vegetables. Mexican, Thai and Moroccan flavours all work really well with this type of beer.
Bunny Hop Pale ale is certified vegan, so why not try a plant-based food pairing with Pegoty Hedge's Vegan Moussaka, handmade in small batches in Worcestershire from organic ingredients. Pop in store to pick both up!
IPA
Dorothy Goodbody's Glorious IPA by Wye Valley Brewery (Herefordshire)
The key difference between a classic pale ale and an Indian Pale Ale is that IPA is gutsier, with a higher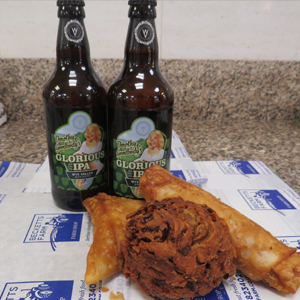 alcohol content. Still very much characterised by plenty of hops, this particular version from Wye Valley Brewery contains five different varieties, bursting with zesty citrus and tropical fruit flavours.
The punchy flavours of IPAs are superb with hot curries and fried foods. Being lucky enough to have the Balti Triangle right on our doorstep here in South Birmingham, our deli counter is stocked with traditionally made pakoras, bhajis, samosas and other fantastic snacks. Add to this a quick and easy curry made with a jar of fresh Punjaban sauce and a chilled bottle of IPA and we're in heaven!
Ruby Ale
'The Othello' by The Shakespeare Brewing Co. (Warwickshire)
It seems like the famous bard knew the importance of beer pairing too!
"Come, come, good [ale] is a good familiar creature, if it be well used." ~ Act 2, Scene 3, Othello.
It's BBQ season right now and ruby ales are well known for their beautiful pairing with smoky meat flavours. So use your ale well and pair it with some succulent, marinated ribs from our butchers counter. It's what Shakespeare himself would have done; we are sure of it!
Bitter
Legless Cow by Hillside Brewery (Gloucestershire)
A smooth, caramelly bitter calls for rich red meats. For us, topside of beef is the ultimate pairing, roasted until pink with generous lashings of wholegrain mustard and red wine. Two very traditional British staples in one meal!
Porter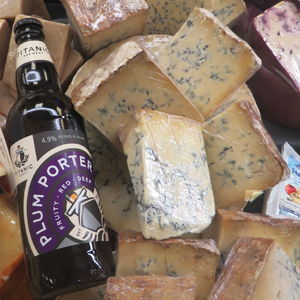 Plum Porter by Titanic Brewery (Staffordshire)
Porter is a dark beer with rich, fruity and toasty characters. It has a gently creamy texture. Pairings include blue cheese, mushroom based dishes and warming stews. It's not really quite the season for stew at the moment, but make a mental note now using this plum porter in a casserole with game is stunning. Venison is available at our butchers counter when in season during the Autumn and is a perfect match.
Stout
Black Hill Stout by The Friday Beer (Worcestershire)
It may surprise you to think of dark stout as a marriage made in heaven with seafood, but the richness of both works like magic. We might be as far from the sea as it's possible to be in the UK, but we've a fantastic frozen seafood supplier in the Farm Shop who keeps us well stocked with sustainably sourced British produce. Seared scallops and this smooth and well-balanced stout from The Friday Beer in Malvern would go down a treat for a light summer supper.
Sour Beer
Sour Brummie by Birmingham Brewing Co. (West Midlands)
Sour beers are good with contrasting sweet desserts. The 'Sour Brummie' by Birmingham Brewing Co. is  full of malted barley with blueberries and a hint of vanilla. It's a rich pinky red colour when poured, so something really different. Not too sweet and not too sour, we'd pair it with a fruity dessert, like this rhubarb crumble. Rhubarb is coming to the end of its season now, though we still have some in. But fear not, summer berries and soft fruits are soon to be in abundance to enjoy with a generous scoop of ice cream and this 'not too sweet, not too sour' wildcard beer!