This pan fried salmon, served with new potatoes and tender stem broccoli is the perfect dish as we head into Spring. Pick up delicious salmon fillets from our NEW range of freshly frozen fish supplied by 'Fish Fanatics' alongside our greengrocers department.
Ingredients
4 x Salmon fillets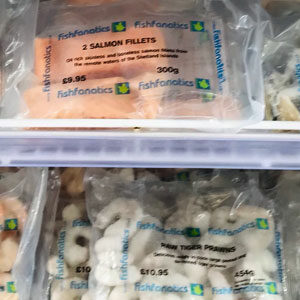 Salt and Pepper
2 tbsp Olive oil
2lb New potatoes, cooked
3 tbsp Butter, melted
Tender stem broccoli
Lemon wedges
Method
Heat the olive oil in a pan.
Season the Salmon fillets with salt and pepper.
Cook salmon fillets in the pan on medium-high until golden brown on each side, about 4 minutes. Take out of the pan and leave to one side.
Separate the broccoli and cut the cooked new potatoes in half.
Saute the vegetables in the melted butter in the hot pan, seasoning with salt, pepper and lemon juice until tender.
Plate the potatoes and broccoli and drizzle any remaining melted butter over them. Place salmon fillet on top of the vegetables.
Add extra lemon juice if required.
Tag @beckettsfarm in your Pan Fried Salmon creations and find more recipes to inspire you in the kitchen here.