It's that time of year once again when the oil seed rape is in flower, and doesn't it look fantastic. It's good to see people enjoying taking photos with the fields in the background, even if one of them this year had some nudity to it!
I've been enjoying cooking again and am building up a real repertoire of desserts. Since I discovered last month that a weed wiper does the same job as a blow torch (I'm told the art of improvisation really helps the best of chefs!!), I thought I'd try another famously caramelised pud and made Baked Alaska. I think that the outcome is quite impressive if I say so myself.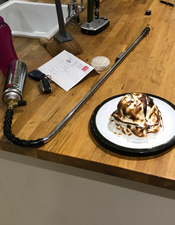 When I was a youngster I attended a boarding school, and the house master and his wife (Mr and Mrs Usherwood) were very very kind to us all, treating us like family. Mrs Usherwood sadly passed away recently, and so this month, I attended her funeral to pay my respects. It brought back many brilliant memories, including the time that I stubbed my toe against the door and was sure that it was broken. Mrs Usherwood assured me that it was not broken and so I limped around on it for a few days before she finally gave in, and took me along to Warwickshire General Hospital, upon which the radiographer confirmed a broken toe and gave me crutches. I think she felt very guilty after that.
I was invited along to a Venetian Ball, which was a lovely occasion, although with full face masks of course, you are never quite sure who you are talking to. There's that and the fact that it is very difficult to drink with a nose that size.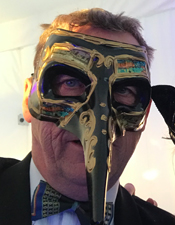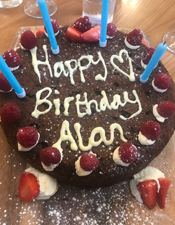 Earlier in the month, my father celebrated his 89th Birthday. If you feel like you've heard me mention my father's birthday quite often, and cannot believe another year has passed already, don't be alarmed, he has two – like the Queen. Since his 80th year he has celebrated half birthdays too.
Our Easter Barn event has just closed for another year. It's always a lovely event for families to come along and see the animals and this year was no exception, with glorious weather over the Easter weekend. The event wouldn't be possible without local farming friends and Hollytrees Animal Rescue Trust who help us out enormously and allow us to put on the event, so I have them to thank.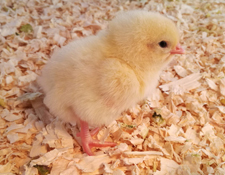 Speaking of the nice weather we had over Easter, I hope it gave you a chance to uncover and dust off the BBQ, and that you'll pop in and see Mark and the team on the butchers counter in the Farm Shop. They have some fantastic, quality meats, including burgers, sausages and marinated kebab skewers. You'll also find your bread rolls, salads and relishes here too – a one stop BBQ shop!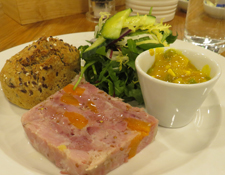 Next month, our Restaurant launches a brand new menu. This will be the first time the menu has changed since February last year and with new Head Chef, Syd in charge of it, I hope you're as excited for it as I am. Of course, old favourites like our award-winning breakfast 'The Old Faithful' and the Ploughman's have been kept, but you'll find Becketts' Butchery Pork Tenderloin with all the trimmings, new sandwiches like a Minute Steak Ciabatta and some lovely lighter dishes like Ham Hock Terrine.
Until next time.
S.B.