As in the hymn, 'all is safely gathered in'. Our harvest this year has been easy with the weather, so we combined the last of the beans this week, just before the end of August. We're still busy on the farms as the cycle starts once more with next years' oil seed rape already planted ready for harvest in 10 months' time.
An old photo of me emerged this month, which I thought I'd share here and encourage any compliments on this amazing perm that I had back in the day when perms were all the rage.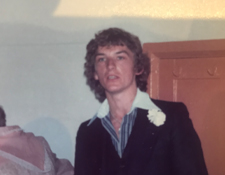 Cooking has been the flavour of the month and I have increased my repertoire with the addition of paella, slow roasted lamb with roasted veggies and a delicious seabass dish with king prawns and squid. The summer months are so inspiring for creating dishes with really fresh ingredients, and food for sharing – I really enjoy my time spent in the kitchen.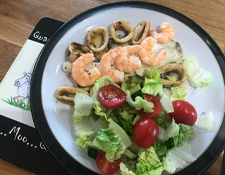 30 years ago I was honoured to be Best Man at a friend's wedding up in Scotland. I did wear a kilt, a photo of which I may share with you soon (I think the perm photo is enough for today). I stayed at the Hawes Inn in South Queensferry which overlooks the Firth of Fourth. The hotel takes its name from the Forth Road Bridge, the structure of which is known as a curved Hawes bridge. It was a lovely place to stay and bought back some great memories. Whilst I was in Scotland I got to see one of my favourite bands play at Stirling Castle, they're a Scottish cult band called Runrig, check them out.
One of our Marketing Team, Louise recently left us for her maternity leave. She had a little boy on the 15th August, named Albie who we got to meet last week. I am never sure about babies or children in the office as it encourages broodiness, but Albie was an exception to the rule and I was really delighted to meet him. Amazing to think that with advances in science and medicine, Albie will live to see another century. Congratulations to Louise and her husband, Nick.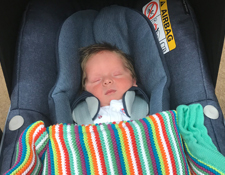 At Becketts Farm, we're already planning for Christmas and have been doing since July. It seems a little like madness to be considering it while the sun shines and we enjoy summer holidays, but we have to be prepared for such a big part of the calendar. We've just launched bookings for our Christmas Party Nights in the Restaurant, so if you're looking for an office get together, or to arrange a festive reunion, take a look at the exciting evenings on offer.
Until next time.
S.B.