This month's news will just be short as harvesting is in full swing and I barely have the chance to get a moment at my desk. After a miserable start to August, this amazing weather has been so welcome in time for harvest. Yesterday we finished harvesting the wheat and we now move on to the 90 acres of feed beans left to do.
This month has been a happy/sad sort of month as I have taken the decision to stop touring with my motorcycle. It means I have to give up my touring bike, which will make my father very happy, but myself not so much. I will however replace it with a café racer and have my eye on a Honda CV1100RS, which I will get hold of next week so that I can still get out on the road.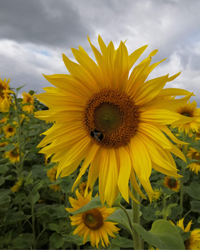 The sunflowers in the field alongside the A435 adjacent to the shop are bringing so much happiness to staff and customers alike. If you haven't seen them yet, then make sure you pop by as we will be harvesting them toward the end of September. Customers have been taking some lovely photos and you're more than welcome to visit the field and have fun taking pictures. We would just ask that you do not pick the flowers as they are crop for harvest. Any photos that you take, please share them on social media using #BeckettsSunflowers.
We recently received an email from local photographer, Samantha Kent, who is in the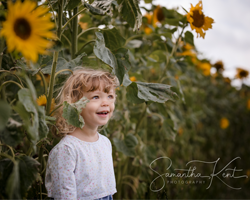 process of setting up a photography business. She asked to take some photos in the field to build up her portfolio. She shared some of her photoshoot with us, and the pictures are beautiful. I wish her every success. Check out her Facebook page for more details of the upcoming business venture.
We've just set up The Becketts Community Fund, which will have a quarterly grant of approximately £750 to donate to local causes. Customers in store are given a token with their shop and have the chance to vote for one of the charities. The grant money is split proportionally between the three chosen charities. Its split in reference to the number of tokens collec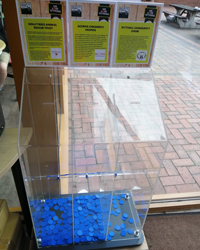 ted, so everyone receives something! The charities are changed every three months and we are currently accepting applications for this scheme. If you are a member of a local charity, community or good cause which could benefit from this, then there's more information here.
That's it from me for now, the combine harvester is calling!
Until next time.
S. B.