November 2019
I began October's news with its wet, wet, wet out on the Farm and I begin November's news with same, same, same, I have never known an Autumn so wet.
I was out walking the dogs down the field last week and I almost got stuck in my own wellies, lets hope for a dry and crisp December.
November brings an excuse each year to have a bonfire party with my friends and family, and although the weather was a little damp and dreary, the firework display was fantastic. I have a talented friend who is technical minded, that puts on the display for me, and let's just say it is very high tech.
As I enjoy my 60's, I have come to think that over the years I have started things and never actually got around to completing them. One thing being, learning how to fly a helicopter. This month I have decided I need to either kill or cure this achievement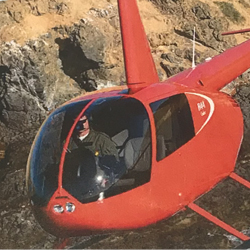 and have started to take some lessons over in Wellesbourne. Learning to fly a helicopter can be very challenging and certainly doesn't just come over night, but watch this space, I could be landing at Becketts Farm sometime soon.
Christmas 2019
This week sees the 18ft Norway Spruce Christmas tree arrive at Becketts Farm and with Christmas just around the corner, it is time to send festive cheer through the post. I hope you like my choice of this years Christmas cards. The kids enjoyed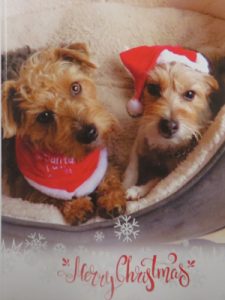 posing for the camera.
Moving forward into December and the whole site is gearing up for the busiest time of year. If you really want a taste of how great local food and produce will taste on your Christmas dinner table, I invite you to come along to our Festive Tasting Afternoon on the 12th December between 12pm-4pm.
Lots of our favourite producers and suppliers will be here to let you sample their produce and hopefully you'll support us and them by picking up a few bits and pieces.
By the next time I next get chance to write, it may well be that Christmas Day has already passed, so on behalf of everyone at Becketts Farm I wish you a truly wonderful Christmas and a prosperous 2020.
Until next time.
S.B.