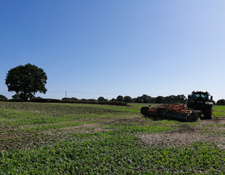 On the farm the oil seed rape is back in the ground, but is being attacked by flea beetle, which is a nuisance to put it mildly. Most of the land is now prepared for reseeding and the wheat seed has arrived and is ready to go. We're just waiting for fairer weather. We needed the rain, but not quite this much!
The great thing about growing old with the NHS is that over the age of 60 you are invited to a bowel screening. Despite being an uncomfortable process and somewhat taboo discussion I cannot reiterate enough how important this is, and how grateful I was for the health service just recently. Following my screening, I received a letter inviting me back to a consultation. The letter detailed some of the statistics associated with the findings from any given bowel screening. In 13% of cases, bowel screening discovers cancerous cells. For 9% of screenings, the results come back clear. In the rest, there's a mishmash of something somewhere in the middle.
The stats were unsettling to say the least. During my consultation I was told that the results had not come back clear and offered an optional colonoscopy (why anyone would decline, I do not know). The laxatives before the procedure were unpleasant to say the least. I would go as far as to say this was the worst part of it. The doctors discovered some polyps, which were removed as part of the same procedure and tattoos were made in their place, as a guide of where to look should similar results come back in the future. Very clever technology that really amazes me. I suppose what I am trying to say is if you're avoiding any unpleasant medical procedure, be it a prostate exam, colonoscopy, smear test or anything else advised by the professionals, DO IT! If we don't look after our health, we haven't got anything.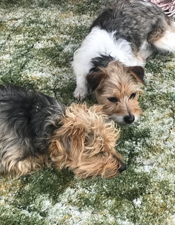 My newest family members (the dogs) are getting bigger and bigger and continue to amuse me. They've settled into office life well and like to curl up under the desk while I work, once they've had their fill of fuss from staff in the office.
As we do annually, we recently provided the farm land for the Wythall Young Farmers ploughing match this month. The turnout was brilliant with over 40 ploughmen entering the competition. Some fantastic footage and videos of the event (including the blog image) were captured by local business, Impact Aerial Limited.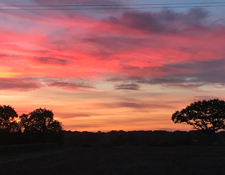 I always feel very privileged to live in the countryside with views like this, and combine harvesters in the back yard. I really do love where I live.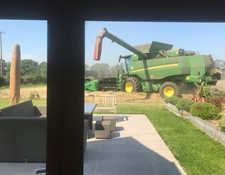 We entertained some Dutch farmers and growers last week to show them what we do. I don't think I'm ready to branch out the business to Holland quite yet, despite their enthusiasm for the place.
There are some great events to look forward to coming up and tickets are now on sale. Our annual Pumpkin Parlour is lots of fun for young families, with the Becketts Farm witches casting open the doors on 26th October this year. You need to book this event, click here to secure a space. In our Restaurant we've been so surprised at how quickly this year's Christmas Party Nights are selling.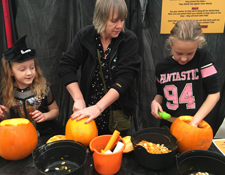 There are still tickets remaining for the Rocky Horror themed murder mystery on 7th December. Click here to find out more about this party night.
Until next time.
S.B.