Let's start with a little good news. It is official, I am now a helicopter pilot! What started as a hobby has now turned into a fantastic achievement. I passed my test on the 15th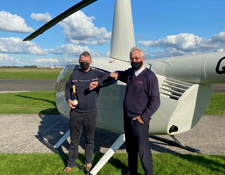 October and I now need to wait 20 working days to officially receive my license, which is just wonderful!
If you read last months news you will know about my trip to Ely. I was on the hunt for some specimen trees. The specialist visited my house early last month and has recommended many beautiful trees that will compliment the grounds where I live. Expected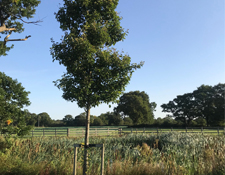 delivery is early November and if the trees do not have any leaves on, we will be ok to get them planted straight away. The trees include ornamental pear and silver birch.
It was great to get a few days away last month. I went on a mini break to Padstow in Cornwall. A few rounds of golf were played, and some delicious food was eaten, including my favourite 'Prawn on the Lawn'. Just 12 months ago I found this amazing Restaurant in Padstow called 'Prawn on the Lawn' which seated just 14 covers. Now with social distancing measures in place they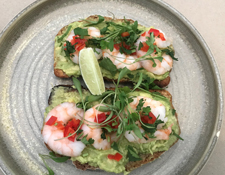 can only seat 4 covers!!
They have had to think fast and come up with innovative ways to keep their business open and they have done this by opening 'Prawn on the Farm'. As you can see from the picture it is a marquee in the middle of a farmer's field. Their signature dish (my favourite) is featured here and includes sourdough toast topped with crushed avocado and
fresh king prawns with a sprinkle of chilli. Simply amazing. It is fantastic to see such forward-thinking young entrepreneurs.
Halloween and Bonfire night is a little disappointing this year to say the least! Although our health and safety is our highest priority right now, I cannot help but feel a little disappointed and upset that many things we would usually enjoy have been postponed. I am sure you feel the same. We live in hope that next year we can be back bigger and better.
There will be one more news pre-Christmas, however it is best to get ahead with your festive preparations. Our Turkey order book is now open. Speak to one our friendly Butchers, who will be happy to assist you with your festive meat orders.
Until next time
S.B.