Wow! What an honour to be a finalist in the Birmingham Business Post Awards 2018.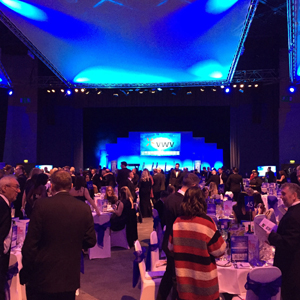 The ceremony was held at the ICC in Birmingham with a whole variety of businesses, ranging from construction companies to law firms, Acorns Children's Hospice and retail and hospitality companies such as ourselves. In our category, Retail Business of the Year, we were up against some tough competition including the world renowned Selfridges & Co.
The evening got off to a great start with a champagne reception, giving people a chance to take in the atmosphere before heading through to the main hall. Our table had a great view as we were situated right in the middle.
The entertainment for the evening was a live pianist during dinner and a Britain's Got Talent Finalist, Magician Jamie Raven who performed during the night.
Towards the end of the evening the awards were being given out, the tension in the room was rising as our category was getting closer.
A video had been produced to show the other contenders a brief view of Becketts Farm. The video included a snap shot of the Restaurant, Farm Shop and other Departments. We felt proud to see Becketts Farm promoted in front of all the other businesses.
The award went to a well-deserving Selfridge's & Co. We are always disappointed to miss out on an award, but being recognised alongside such big names is a fantastic testament to all that our dedicated team do here.
We'd like to extend our congratulations to Selfridge's & Co. and the other finalists in the category, local company First Mats UK, who are a really impressive start up company who've been trading for just a little over a year. There's some excellent talent out there.
A huge thank you to all of our customers and everyone who has supported us over the years as we go from strength to strength.