Oils are the basis for many favourite recipes. They play a major part in various cooking techniques, from sautéing and frying to roasting and baking. Although we don't stock a variety of oils in the Farm Shop, we do sell the fantastic Farrington's Mellow Yellow Rapeseed Oil.
Farrington's Mellow Yellow Rapeseed Oil are Britain's original 'seed to bottle' producer of Mellow Yellow cold pressed rapeseed oil and can be found in many shops and restaurants nationwide and abroad, including our Farm Shop.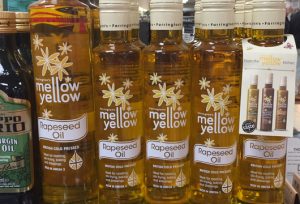 This brilliantly versatile product is great for roasting, baking, frying and as a dressing. This oil is low in saturated fats and contains omegas 3, 6 and 9, which will help to reduce your cholesterol. As well as maintaining healthy joint, brain and heart functions. Mellow Yellow Rapeseed oil will bring out the best in your food with its subtle nutty taste and natural goodness. The whole family will enjoy it.
Although the Summer is the peak time for the rapeseed crop, once pressed the oil has a very long shelf life. You can purchase this product all year round from independent shops and supermarkets. Rapeseed oil should be a glowing yellow colour. To find the best quality, we recommend you buying from smaller independent companies that produce their oil in smaller batches.
Rapeseed oil needs to be stored in a sealed container and stored at room temperature away from direct sunlight, this will ensure freshness is kept within the product.
Although we recommend using Farrington's Mellow Yellow Rapeseed Oil, other healthy oils low in saturated fats are; Olive Oil, Sunflower Oil, Walnut Nut Oil and Linseed Oil. These are alternative healthy oils that you can use within your cooking.