It's wet, wet, wet out on the Farm, so there's not really too much to report farming wise. I decided it was a good opportunity to take a break and get away for a few days.
Hence, I've just returned from a fantastic long weekend in Cornwall, golfing with the pups! They make excellent caddies and enjoy escaping for some well-earned sea air too.
I was inspired to cook a posh fish and chips when I returned, and thought I'd share a photo of it.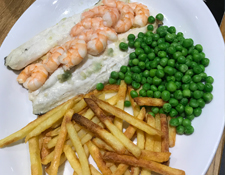 I still enjoy any chance I get into the kitchen and do a bit of cooking, improving all the time.
The community token box in the Farm Shop was emptied earlier this month and the money split between three very deserving charities – Hollytrees Animal Rescue Trust, Acorns Children's Hospice and Wythall Community Choir. This quarter the charities have been changed in support of Solihull Heart Support, The Coppice Primary School and Wythall Together. Please pick up a token from the tills and support them with your vote. There's more about the Becketts Community Fund here.
Today our Pumpkin Parlour event comes to a close for another year. With over 1000 pumpkins carved and lots of 'little monsters' welcomed, it's been a week of fun. I do love the silliness of Halloween and have been known to dress up for the event myself in the past!
And from pumpkins, we turn our attention to turkeys! The butchers will be opening their order books early next week on the 5th November for festive poultry, roasting joints and trimmings.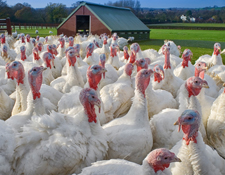 All of our turkeys are sourced from Caldecott's Farm in Wythall, so these are really local birds. Speak to the Butchery team for great advice on serving sizes, cooking times and recipe ideas.
Until next time,
S. B.