It's that time of year again – the days are getting darker and colder and there seems to be an orange and black glow wherever you go! That's because we are in October and the spooky Halloween season is just around the corner.
Our Chief Witch and her friends will not be gathering here at Becketts this year… but fear not! With a little help from us, there is plenty of gruesome fun to be had at home.
Halloween Treats
Our Bakery counter have been mixing up some crummy Halloween themed treats for the whole family. From spooky-faced donuts and spiders web cupcakes to ghostly family cakes, there are plenty of sweet treats to go around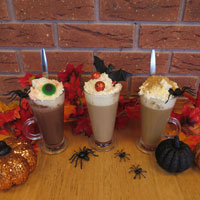 Meanwhile, the Coffee Shop team have launched their Autumn Warmers menu! Stop by for a delicious Pumpkin Spiced Latte, Trickle Treat Hot Chocolate or a Cinnamon Latte. These drinks are sure to warm you up on a chilly afternoon, and if you're a real pick-me-up then treat yourself to a cake to go on the side!
Our ghoulish Greengrocers have been busy sourcing wonderful pumpkins again this year. They have a variety of different sizes to choose from and some may even be different colours!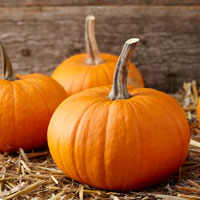 Pumpkin Carving Competition
As a Halloween activity, we are giving away a free stencil with every pumpkin purchased from our Farm Shop. You will find the stencils at the Farm Shop tills. Plus, to add a little fun, we will be holding a Pumpkin Carving Competition over on our social media pages throughout the half term week. To enter, simply purchase your pumpkin and collect your free stencil, get carving and then post your finished pumpkin photo to Facebook or Instagram. Be sure to use the #beckettspumpkins so that your photo is entered!
Here are our Chief Witches' top tips for the perfect carving:
You will need:
Becketts Farm Pumpkin
Becketts Farm Stencil
Knitting needle as your pumpkin pin
Flour as your skeleton dust
Carving knife
Spoon
Sandwich bag
Masking tape
Step-by-Step Guide:
Remove the lid from your pumpkin and scoop out the seeds and flesh into a bag.
Tape your chosen template onto the front of your pumpkin, or if you're feeling artistic then you can create your own design.
Use your pumpkin pin to place holes (around 1-2cm apart) along the lines of your template. Be careful not to pin yourself to the pumpkin!
Remove your template and then rub a small amount of skeleton dust all over the front of your pumpkin where you have pinned the holes – you should be able to see them more clearly now.
Ask your pumpkin master to carve along the dotted line. Make sure you watch them vary carefully so that they stay on the lines! Each time a section is finished, you can help to push out the pumpkin pieces to reveal your pumpkin face! Be careful not to lose any fingers!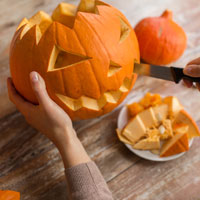 Once your gruesome pumpkin face is finished, stage a spooky photo and share on social media with the #beckettspumpkins
Then, on 1st November 2021, the Becketts Farm Chief Witch and her friends will be choosing their favourite pumpkin who will win a trick or treat hamper! (T&Cs Apply*)
If you're really feeling the autumn vibe, why not save the insides of your pumpkin and head over to our favourite recipes page where you will see all our latest recipes, including a yummy pumpkin soup!