The turn of a new year always has people thinking about their new years resolutions. The resolve to stick at them might waver, but it's always a good opportunity to take stock and make a few commitments. Have a look at my ideas below.
Buy local
…For fresh, flavoursome food!
When I'm shopping for fresh produce especially, I always like to check I'm buying British, but this year I'll concentrate more on making sure that I look for even more local produce. Less transportation time means local food reaches your plate sooner, and that's great news for both taste and nutrients. I've always been a huge fan of the Evesham tomatoes on sale in the Farm Shop. The supplier, R&L Holt is a family business that have developed natural and environmentally friendly growing methods to allow production all year round. Even in the winter months, their tomatoes taste super sweet, exploding with flavour.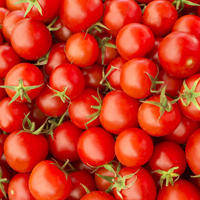 Local produce is also much better for the environment, reducing pollution by transportation and also meaning less need for protective plastic packaging. I know that our greengrocers are ever conscious of getting their fruit and vegetable supplies with no plastic packaging where possible, and using local suppliers really helps Ian and his team to be one step closer to achieving this.
Taste, nutrients and environmental benefits aside, one of the best reasons I can find to buy local is the sense of community. Buying local helps to support the local economy and local artisan producers, who have bags of authenticity and skill that we can help to retain by buying local. Traditional skills including bakery and butchery are threatened by mass production, and by supporting local I hope that these skills won't be forgotten in years to come. Not only that, but in my eyes, having a chat with a real human being beats mindlessly wandering supermarket aisles to be greeted by nothing more than 'loud' special offer tickets and grumpy fellow shoppers.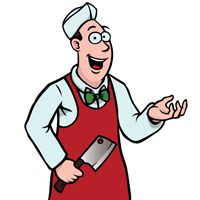 Why not make it your new year's challenge to get to know your local butcher by name?
Cut down on plastic use
… Great taste, less waste
Plastic is often used to protect the food we buy, but nowadays there seems to be so much unnecessary plastic on the supermarket shelves, and quite often it would seem to serve very little purpose.
Here at Becketts Farm we are continually working on ways to cut back the plastic on our shelves, wherever possible. As consumers over the past few years we've become quite good at remembering our bags for life when we go shopping, and always keeping an 'emergency' one in the boot of the car. This year, we'll be encouraging customers to bring not only their own bags for life when they shop, but also their own reusable food storage containers to take away their shopping from our counters. Our butchers, bakers, greengrocers and delicatessen will all be more than happy to serve you what you require all packaged up in your own food storage boxes. We're also making sure that paper bags are available on every counter.
Another contributor to plastic waste are takeaway coffee cups. In the UK, 99.75% of disposable coffee cups are not recycled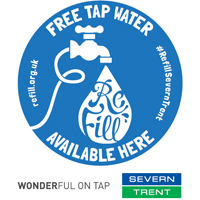 because currently only a small number of producers in the UK have the specialist technology to make them recyclable. In our coffee shop you can purchase a reusable coffee cup which gives you 10% off your drink every time you bring it back to us.
I was quite excited to learn about Severn Trent's Refill scheme recently, whereby businesses sign up to be a water bottle refill point, topping up tap water free of charge, no obligation to purchase anything. Single use plastic bottles are bought in their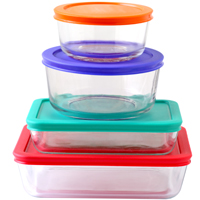 millions and the consequences that have been highlighted in the media of late are really distressing. Of course, I made sure that Becketts Farm have signed up to the scheme, so you'll now see these blue stickers in our doorways.
This 2019, why not invest in some great re-usable food storage containers, and commit to carrying a few with you alongside your bags for life!
So, that's it. Let's see how well I do with my little challenges and resolutions going forward into the year. Hopefully you've found some inspiration too.
Happy New Year!