Here at Becketts Farm we've got a few favourite ingredients for your kitchen this summer, surprising additions to recipes that will take 'tasty' to a whole new level.
Best Ever Burgers
with Bay Tree Caramelised Onion and Tomato Chutney
This chutney is one of Bay Tree's best sellers and we can definitely see why. Delicious with cheese (we like it with Brie) or served alongside sausages on the barbecue, it has a sweet flavour with a delicately spiced twist.
But here's where this versatile ingredient becomes your secret weapon – stir a few tablespoons into your homemade burger mix!
What you'll need:
500g Becketts Butchery Minced Beef
1 Free Range Egg
3 Tbsp Bay Tree Caramelised Onion and Tomato Chutney
6 Crackers (crushed)
Salt and Black Pepper to season
Method:
Combine all of the ingredients into a bowl, and mix well with your hands. Divide the mixture into 6 and pat and mould each piece into a roundish shape, roughly 2cm thick.
Put the burgers into the fridge for half an hour, or until you need them. This will help them to firm up.
Cook the burgers on the BBQ or on a griddle pan until browned and completely cooked through, flipping occasionally (approx. 8 mins).
Serve on a bun, or any way you like and enjoy in the sun.
Picnic Ham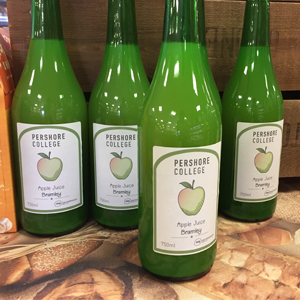 with Pershore Apple Juice
We stock a great range of juices made at Pershore college, where the fruit is grown, pressed and bottled all in one place. These juices are tasty and refreshing and are a grown up drink for summer parties or barbecues for those who don't or aren't drinking!
They're also the star ingredient of this excellent Slow Cooker Ham Recipe. The apple juice lends a sweetness to the ham and the finished product can be used for Summer Salads and Picnic Sandwiches alike. Find excellent British pork gammon joints at our butchers counter.
What you'll need:
1.5kg unsmoked gammon joint
10 peppercorns (whole)
1 bay leaf
1 tbsp golden syrup
250ml Pershore apple juice
750ml boiling water
Method:
Pour the apple juice into the slow cooker pot, then add the bay leaf, peppercorns, and golden syrup – mix.
Place the ham into the slow cooker and pour over the boiling water.
Cook on low for 8 hours, or on high for 5 hours.
Leave to rest before slicing and enjoying.
'Beet This' Chocolate Cake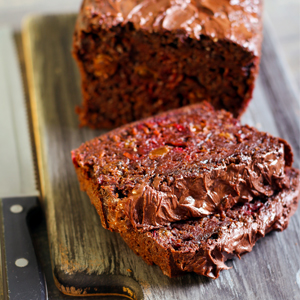 Becketts Farm Greengrocers Beetroot
Here's a trick to create the most deliciously decadent chocolate cake and get one of your five a day in the process (actually…don't trust us on that one).
By adding grated fresh British beetroot into the chocolate cake mixture the humble chocolate cake is transformed into a grown up tasting pudding that will be enjoyed by all of your summer party guests. Plus, British beetroot is perfectly in season right now, so why not pick up a bunch from our farm shop and try it for yourself.
What you'll need:
1 large cooked beetroot, about 175g in weight, roughly chopped
200g plain flour
100 cocoa powder
1 tbsp baking power
250g golden caster sugar
3 eggs
2 tsp vanilla extract
200ml sunflower oil
100g dark chocolate
Clotted cream or ice cream to serve
Method:
Heat oven to 190C/fan 170C/gas 5. Tip the beetroot into a food processor and blitz until chopped. Add a pinch of salt and the rest of the ingredients, except the oil and chocolate.
When completely mixed (you may need to scrape the sides down once or twice), add the oil in a steady stream.
When all the oil has been added, stir in the chocolate, then tip the mix into a lined 900g loaf tin. Cook for 1 hr until an inserted skewer comes out practically clean. leave the loaf to cool on a rack.
Sweet Potato Cranberry Cake

Becketts Farm Greengrocers Sweet Potato
This "sweet" recipe, is a perfect way of using this fantastic vegetable. It gives the colour of the cake a lovely orange colour and contrasts with the cranberries really well.
Serve with afternoon tea or with ice cream as an evening dessert.
What you'll need:
300 g sweet potato (peeled weight)
125 ml vegetable oil, plus extra to grease
325 g plain flour
1 tsp baking powder
1 tsp bicarbonate of soda
200 g caster sugar
100 g dried cranberries
3 medium eggs
2 tsp vanilla extract
100 ml milk
50 g plain flour
50 g unsalted butter, at room temperature
50 g caster sugar
1 tsp each ground cinnamon and ginger
Method
Start by making the sweet potato purée. Chop the sweet potato into rough 1cm (1/2in) pieces and simmer in water until soft – about 10min. Drain and allow to steam dry for 5min, before mashing. Set aside to cool.
Meanwhile make the streusel topping. In a medium bowl, using your fingers, scrunch together the plain flour, butter, sugar and spices until the mixture forms damp large crumbs. Set aside.
Next preheat oven to 180°C (160°C fan) mark 4 and grease and line a rough 22cm x 30.5cm (81/2 x 12in) roasting tin with baking parchment. To make the cake, sift the flour, baking powder and soda into a large bowl, then stir in the sugar and cranberries and set aside.
In a large jug, mix together the oil, eggs, vanilla, milk and sweet potato purée. Add the liquid ingredients to the dry and stir to just combine. Scrape into the lined cake tin and spread to level. Scatter over the topping and bake for 30-35 mins or until a skewer inserted into the centre of the cake comes out clean.
Allow cake to cool for 5 mins in tin, then lift out and completely on a wire rack or if you can't wait, serve warm with ice cream.