With lots of lovely fruit coming into season now, it's the perfect time to dig the blender from the back of the cupboard and get experimenting with smoothies.
They're simple to make and really fun to experiment with, along with packing in plenty of health benefits and nutrients.
Most nutritionists would agree that eating the whole fruit is better for you overall, but when we are short on time, inspiration and let's face it – will power to keep up the healthy snacking – a smoothie can be a great solution.
What's more, by including other food groups other than just fruit you can open up a whole host more nutritional benefits!
Vibrant Veggies
Smoothies can be high in sugar, especially those which are shop bought. Blending fruit also releases free sugars in the fruit (the kind which are higher in calories and worse for our teeth). Fear not though, most nutritionists are agreed that a single serving (150ml) of smoothie per day has tonnes of nutritional benefits and so this free sugar in moderation shouldn't be a cause for concern. From increasing your fibre and protein intakes to the range of vitamins and minerals that the ingredients provide, smoothies are good for us.
One way to reduce the amount of sugar in a smoothie is to include more vegetables. Common inclusions are leafy greens like spinach or kale, cucumber, celery, avocado, and beetroot.
Spinach is so mild in flavour that mixed with other ingredients in a smoothie its flavour is virtually undetected – we promise! And if you're a little freaked out by a smoothie that is green in colour, then choose bright berries too which blend perfectly to mask the green hue.
If you want to brave a green smoothie, then for a really refreshing mixture try mixing this Tropical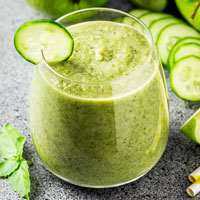 Cucumber Smoothie mix:
Cucumber
Pineapple
Banana
Coconut milk
Spinach
Lime Zest
Ice
Avocado makes smoothies thick and creamy. Again, like spinach it is very mild, but low in sugar and packed full of vitamins, folate, potassium magnesium and much more. High in fibre and good fats as well, for a filling smoothie try the following Blueberry & Avocado mix:
Avocado
Blueberry
Spinach
Almond Butter
Milk
Ice
Protein
Adding milk, yoghurt and nut butters can be a great way to add protein into your smoothie.
Ideally in doing so, you don't want to add too much extra sugar. Therefore, choose unsweetened versions of all of the above.
Nut butters add a delicious new flavour profile to your smoothie as well as being packed with protein, good fats and a range of other health benefits.
Alternatively, you can simply add a handful of whole nuts or seeds to a smoothie and blend.
Almonds are a great choice, as they provide protein, fibre and nutrients such as vitamin E and iron.
Try adding a couple of tablespoons of ground almonds to a strawberry and banana smoothie.
Superfood Additions
When trying to pack as much nutritional value into your smoothie as possible, pick one of these ingredients to add in too:
Goji berries – packed full of antioxidants, boosts immune system, source of vitamin A & C and much more!
Oats – Provides slow-release energy, great for fibre, lowers cholesterol
Chia seeds – rich in calcium, magnesium and phosphorus – great for bone health
Flax seeds – Flaxseed is loaded with plant omega-3s, which are good for your heart health
Turmeric – lessens inflammation, good for heart health, fights pain, helps fight depression
Ginger – good for digestive health, immune system boosting and supports heart health
We hope you've found a little inspiration here for summer smoothie inventing! Don't forget to tag us in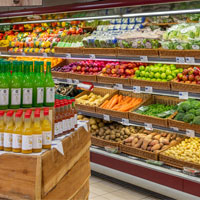 your creations.
Our Greengrocers always has great fresh fruit offers! Stop by next time you're passing.