Many of us enjoy eating a steak, but we are often unsure how to choose and cook the perfect steak. Our Butchers counter stock a variety of steak cuts, including fillet, ribeye, rump, sirloin and T-bone. Each steak is 28-days matured here on site at our Butchers counter. We have spoken to our expert Butchers, Gavin and Ken, who have given us some top tips, including some delicious serving suggestions.
What does it mean for the steak to be 28-days matured?
"The maturing process allows the steak to become more tender and enhances the flavour. The meat should be matured in a controlled temperature and helps to achieve two main outcomes – improving the taste and texture. Hanging the meat allows enzymes to break tissue down in the muscles, which in turn allows for tenderness. The process also evaporates water from the meat, which concentrates and improves the flavour making the steak taste a lot richer. Matured meat will look darker, which shouldn't put you off. In fact, this is something to look out for when choosing your steak – the darker the meat, the longer it has matured. A fresh red steak may feel soft to touch, but can be very difficult to eat!"
However, this isn't the only thing we should look for when choosing a steak. Each cut has different qualities, which our expert Butchers have rounded up for us below.
Different steak cuts
The cut of steak is dependent of the part of cow that it comes from. Each steak also varies in texture and taste, meaning that your choice depends on your preference of finish. Whether you prefer a more versatile or premium cut our Butchers will guide you in the right direction.
What is a fillet steak?
"A fillet steak is the most premium steak cut and often found to be the most expensive. Their main qualities are that they don't have much fat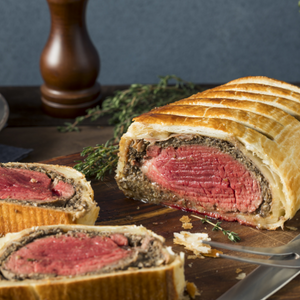 and are tender to eat. However, where they are more tender than other cuts of steak, they aren't as strong in flavour.
A whole fillet steak is great for dishes such as Beef Wellington."
What is a ribeye steak?
"A ribeye steak originates from the rib section of the cow, which can be bought/served with or without the bone. This cut of steak has a rich marbling of fat, which guarantees a strong flavour and succulent meat."
What is a rump steak?
"A rump steak is the often known as the most versatile cut and is both flavoursome and affordable. The rump can be cut into individual steaks or served whole. The individual steaks are best cooked flash fried in a pan, or the whole steak is delicious when barbequed."
What is a sirloin steak?
"A sirloin steak is also considered a prime cut like fillet but has more flavour. When choosing a sirloin, you will find that a cut with more marbling of fat will be more tender."
What is a T-bone steak?
"A T-bone steak is a large cut and named after its T-shaped bone in the middle. Either side of the bone, is a sirloin and fillet steak. This means a T-bone steak offers the taste and succulence of both cuts and proves to be a popular choice. Its large size also makes it a great choice for sharing.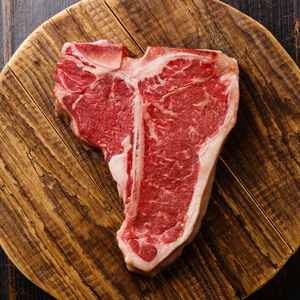 A T-bone steak is perfect for date night. We would recommend serving it with the brandy and three peppercorn sauce by Dine with Atkins & Potts for a delicious steak sauce."
Cooking the steak
There are a variety of ways to cook steak; in the oven, pan fried or on the griddle to name just a few. Your choice of cooking not only depends on the cut you have chosen, but also how well done you prefer your meat. Cooking your steak in the oven will take a little longer, whereas pan frying will be faster but could leave the steak crispier on the outside.
The expert's choice
After finding out a wealth of information on various steak cuts, we asked our expert butcher Gavin about his steak preferences.
Which steak do you choose and how do you cook it?
"I enjoy a rump steak because it is so versatile, and I find it very tasty. I cook my steak in a pan for 1 ½ minutes on each side and then leave it to rest for 5 minutes, so that it remains pink but without blood."
What sides or sauce do you enjoy with your steak?
"I serve my steak with a side salad and some chunky chips. I don't have a sauce with it, I don't think it needs one!"
With all this expert advice in mind and Valentine's Day just around the corner, be sure to visit our Butchers counter to find the perfect steak for your date night. You will also find a selection of English wines in our Farm Shop, from Halfpenny Green and Lyme Bay and a selection of fresh vegetables and salad at our Greengrocers.