Simons News – April 2018
You may have read in my last news that I had got my eyes set on a cross Jack Russel and Fox Terrier puppy, from the local animal rescue trust 'Hollytree's'. Well I couldn't just settle for Geoffrey I had to bring home Geoffrey's mum Jessica too. They have settled in well to their rural surroundings and Geoffrey is looking forward to visiting the office with Jessica as they
become a part of the office team! The ladies in the office are excited for the new additions and I'm sure they will be included in the tea breaks, well maybe just water and dog biscuits for them!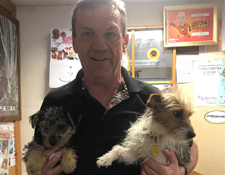 My Father Alan celebrated his 88th birthday this month. The whole family got together for a weekend away in Bedford, where we enjoyed a delicious meal and celebratory drinks. It's always nice to spend time and enjoy catching up with family members you don't see all that often.
Here on Becketts Farm, we are saddened by Simas news to cease trading after 20 years of being onsite. There is still lots of discussions being had as to what we do with the unit onsite, but I have to be mindful that this is in congruous to our business. As part of this re development there is the possibility the car wash will move positions and you may even welcome back Sima into a smaller unit. All I can say for now is watch this space!
April was a month full of sponsorships and donations here at Becketts Farm, one being a
donation of £15,000 to Wythall Community Association. My grandfather, Albert Edward Beckett who established our company in Wythall some 80 years ago, was a founding member of the Wythall Community Association. We hope that our donation and our on-going support will allow the residents of Wythall to continue to enjoy this great facility for many more years to come."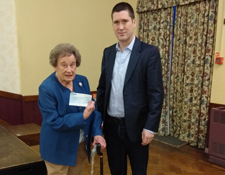 It was great to finally see some sunshine during April, what did they call it 'the beauty from the east'? Anyway, the brief spell of sunshine allowed our farmers to plant some spring barley in the field opposite the farm shop. We have also busy bailing up some straw and plan to bail it all, there is currently a high demand for the power stations that run off burning straw and the current market value is around £190 per tonne as appose to the normal value of £50 per tonne. Just like the Farm Shop and Restaurant have an Environmental Health Inspection, the farming side to the business also has an annual inspection through the Farm
Association and we are pleased to say we passed.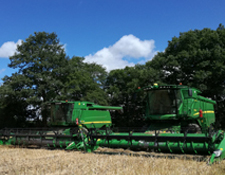 I am pleased to say we will be having disabled access made available to our Conference facilities and main offices during the month of May. Our onsite partner Magbility have come up with a solution to fit a stair lift which will allow disabled access to most of our conference rooms and offices. This will be a great addition to facilities we provide and be a key selling point for future conferences and meetings.
As I write this I am about to head off on my motorbike for a trip around Northern Spain. I hope to visit Pilgrim's way, indulge in delicious food and drink and take in the beautiful scenery. Look out for next month's news to hear all about it.
Until next time.
S.B.