It is harvest season and as I write this the combine is powered up and harvesting the oil seed rape. The condition of the oil seed rape is not at its best this year. This is because of the very wet weather we had at the time we planted the crop. We have also struggled with flea beetle on the crop. This is a type of insect that feeds from a green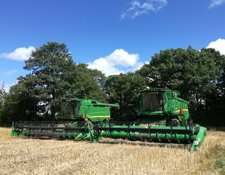 on brown plant such as oil seed rape. Plan B for harvest next year is to plant buckwheat amongst the oil seed rape. We hope this will fool the flea beetle into feeding off that. As most things, everything is subject to change, but we have a plan and I will keep you updated!!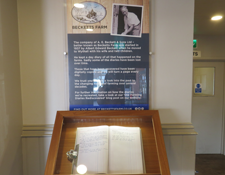 You may have heard me speak about my late grandfather Albert's Day Diaries being reunited within the family earlier this year. The finished result of the replicas we had produced are fantastic. They have been brought back to life and are on display in our Restaurant for you to enjoy. Step back in time and read about the changing nature of farming over the decades.
Our Restaurant has been open for almost a month now. Although times are still difficult, trade has been steady which is certainly encouraging. The appetite for eating out is still so unsure and we are unsure of when this will change but we continue to think of new ideas on how we can adapt and evolve our Restaurant.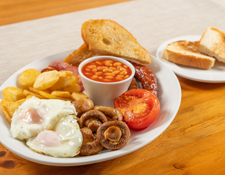 Great News – we have enrolled into the government 'Eat Out to Help Out' scheme which starts this coming Monday (3rd August). Visit our Restaurant on a Monday, Tuesday or Wednesday throughout August and enjoy 50% off your food and non-alcoholic drinks (up to the value of £10 per person). For more information look here.
Lastly, thank you for your continued support, loyalty and custom at Becketts Farm during this difficult time. As you are aware, face masks are now mandatory when visiting our Farm Shop and Coffee Shop. We appreciate that you are complying with the new rules as this is certainly something we have found difficult to enforce. As a business, we continue to try and remain Covid safe. We hope your visit is as enjoyable as it can be.
Until next time
S.B.