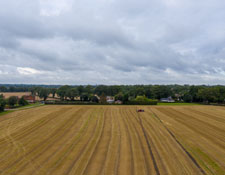 It's been a while since I last wrote my news blog – time certainly is flying by. The harvest season also seemed to flash before my eyes too. The hot, hot, hot weather means that all the crops were ready to harvest sooner than usual and have been safely gathered for this year. It's hard to believe that this time last year we were still busy collecting them in! Us farmers rely heavily on the weather and the unpredictability of it can make our job quite difficult at times, but we keep going.
The heatwave we experienced also meant that our sunflower fields bloomed sooner than we expected. We opened the field towards the end of July and as I write this blog and look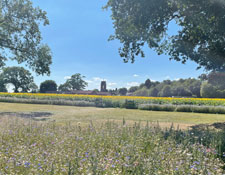 out the window, I can see that the field looks past its best now. The flowers did well to withstand the dry conditions for that long, but they did suffer. Who'd have thought that sunflowers don't like too much sun. It has been great to welcome so many new and returning faces to site and everyone walk out of the field with a smile on their face. The team here chose the DEC Ukraine Humanitarian Appeal as our chosen charity to support this year, which I think is a brilliant choice. The running total stands at over £1600 which is totally incredible. The donations page is still live for those who wish to give to this fantastic cause.
Over the summer, my son Liam and his family came to visit from their home in South Africa. Although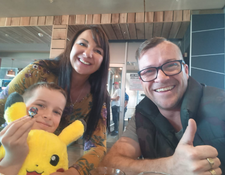 we speak on the phone regularly, it was great to see them face to face and to spend some quality time with my grandson Riley. We enjoyed some great days out together and he got to experience the harvest with a ride in the combine.
As we now look towards the last quarter of the year, the Events team are focusing on our Halloween event which will take place during October half term. They have made the event bigger and better than previous years and the plans look great. If you'd like to come along, advance ticket bookings are essential which can you book here.
Until next time
S.B.