It's been a couple of months now since I wrote my last update and whilst those two months have been filled with lots of fun and happiness (Christmas and New Year's being among it all!) I have some sad news to share. Earlier this month, the community lost a local man, Jack Connolly in a tragic accident abroad. Jack was a friend of mine, a civil engineer in his 30's, recently married with two wonderful children. He was a huge part of the Woodrush Rugby Club and many in the local community, including people among the team here at Becketts knew him well.  I'll be attending his funeral tomorrow and all of my thoughts are with Jack's young family. The passing away of someone is never easy, but it is especially difficult when someone so young with so much ahead of them loses their life. It's a reminder of the fragility of life; within all of the sadness and grief we must continue and live each day fully.
Christmas was a happy time, spent with my family. I missed my usual December trip to South Africa to see my son, Liam, his wife, Eluned and my grandson Reilly. I'll be going over in March to see them with my father, and we'll look forward to celebrating a belated Christmas with them then.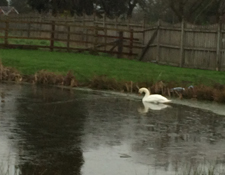 Recently, I was approached by a local ornithologist, Matthew Griffiths who wanted to use Becketts Farm land for farmland bird surveys and ringing. The role that farmers have to play in enhancing the local landscape to encourage wildlife and biodiversity is often overlooked, but it is of great importance. We often spot wildlife ourselves when working out in the fields, with monk jack, roe deer and plenty of bird life, including a growing number of birds of prey. This morning, I spotted a lone swan on the pond at one of the farms – we are fortunate to live in a rural environment and see amazing things that not everyone gets to see. Matthew dropped me an email on completing his survey, to say that he had spotted Woodcock, Stock Dove and even Jack Snipe. The 3 jack snipes recorded were the first to have been reported in Earlswood since 2006. Matthew commented that leaving the fields in stubble over winter has clearly created some fantastic habitat for these species to forage in – great wildlife-friendly farming!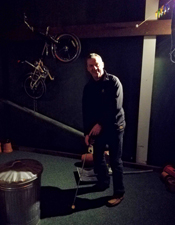 As you know the old SIMA Warehouse unit has been divided into smaller units and is now fully let. There's Intelligent Shading who are open to the public for blinds, awnings and more for home and business – definitely worth a look as the showroom is fantastic and the products they have to offer are really great quality. There's also Doodle Togs, who are using the space as their office and production unit, but currently retailing online only. They sell a range of personalised merchandise so check them out online. The latest arrivals will be a bespoke bed company and a sporting goods supplier with more details on them to follow soon. I've mentioned in previous months That Funky Golf Place which opens today! It's crazy golf, with a pint and the Becketts Farm team were treated to a preview of it yesterday evening – it was great fun.
I wish all of the new businesses joining our site all the best here and hope that they will be a great asset to us, and we to them. Please show these local businesses your support.
Until next month.
S.B.