This month it has been busy out on the Farm as we begin the harvesting which is happening much faster than usual, and there are no prizes for guessing the reason behind that… the weather! It seems we are always discussing it, but it really does play a vital part in what we do, and in a changeable climate such as ours, who can blame us for discussing it. We've seen so many extremes this year, from heavy snowfall with the Beast from the East, flash flooding only a couple of months back and now it's set to be the hottest year since 1976, when I was just about old enough to remember harvesting in similar conditions!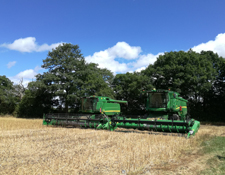 Well, it means we are very much in front with the harvest. The oil seed rape is all done and harvested. Whereas we would usually yield around 2 tonnes per acre, we are this year only at 1.5 tonnes. The grain simply did not swell due to the lack of rain. Oil seed rape is sold at around 9% moisture, so that it remains easy to extract the valuable oil from it. This year however, we've had to stop harvesting it because the moisture was down to just 5%, it becomes too dry to harvest.
But I won't dwell on the weather any longer… There's no such thing as the wrong weather, only the wrong clothes!
Earlier this month I enjoyed 10 days in Switzerland and France, visiting Lake Geneva and the beautiful Versailles. Versailles is so incredibly opulent, everywhere you look there is gold, and it's not just painted or plated, its real, solid gold! The architecture is stunning.
We've secured new tenants for in the building that used to house SIMA Warehouse. We have Opal, who produce commercial blinds and Doodle Togs, who produce personalised merchandise (including personalised dog bowls and clothes which will suit my two perfectly!).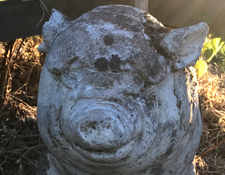 I've got two new gatekeepers at my house, thanks to a good friend. These pigs were lying around in his garden unloved and weathering and so he gave them to me. I've managed to restore them and give them a new home.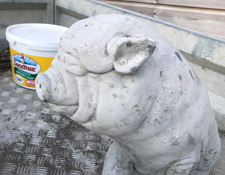 As I mentioned in my last news, I was attending the wedding of a family friend. It was a lovely occasion with glorious sunshine, held in a marquee and double decker bus in one of my fields. It was a really impressive set up. I was honoured to be chauffeur on the day, ensuring that the bride arrived in style in a shiny Rolls Royce.
In a couple of weeks there will be an electric bike pop up stand outside the Farm Shop. Having always been a fan of cycling, I'm now thinking that an electric bike might be the way forward as I get older and fatter!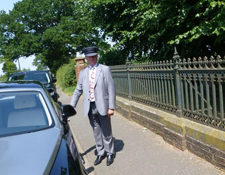 At Becketts Farm, we've been shortlisted in another two awards, and so once again have our fingers crossed for good news! The first is the Visit Worcestershire Awards for Excellence in which we're shortlisted in the 'Best Eating Out' category. The second is farming related. While we have won our fair share of awards for the food, retail and hospitality side of our business, it would be great to be recognised for our farming efforts also. We're up for "Outstanding Diversification" in the British Farming Awards 2018. I hope to share exciting results soon, watch this space.
Until next time.
S.B.