The rain has come at the right time for the Farm, but definitely the wrong time for the Farm Shop. Our Butcher's counter is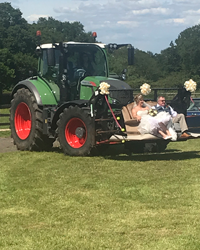 famous for its fantastic BBQ meats and it is where a lot of our summer trade comes from. We remain optimistic though and I'm glad to see the weatherman reporting better news for the week ahead! The BBQs should be out in force over the weekend.
The month kicked off with celebrating my Godson's 18th Birthday – where on earth does the time go? Then we celebrated a friend's wedding. Agricultural weddings are always fantastic, the bridal transport is always novel and never fails to impress. It reminds me of the time when we attached a fairground swing to the back of an articulated lorry (do not try this at home!!) and a cry came from the back "She's being ill". Those driving heard "We're going up a hill" so continued on, while the Bride vomited into the Grooms top hat. What a memory for your wedding day.
I was invited to enjoy a delicious meal with friends at the Savoy on The Strand. We sat at the Captain's Table (Chef's Table) watching them cook and it was just an unreal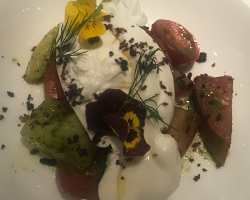 experience through and through. Everything from the canapes, lobster bisque, buratta and tomatoes were plated to perfection and tasted amazing. I am not a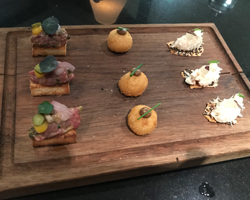 salmon lover, but the salmon en croute that was served was an absolute highlight for me. That and being able to cook my own steak with supervision and guidance from some really top chefs. I learnt some great tips and the steak was beautiful.
Back in my own kitchen and I've been aspiring to build on my repertoire. I tackled lobster! Baked in the shell with cheese sauce and served with broccoli and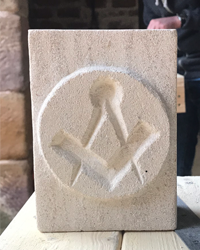 cauliflower. It was delicious if I say so myself.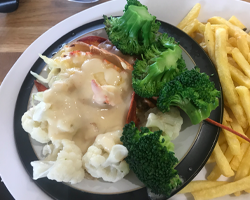 I've never been shy of admitting to being a part of the Free Masons, and have been for almost 30 years. A friend bought me the gift of a lesson in carving at Dudmaston Hall and so a group of us went and had a go. I was really pleased with the outcome, managing to carve a square and compasses into limestone.
We had a fantastic photographer join us in the Farm Shop and Restaurant this month to capture some pictures of the place, its people and the food and drink that we produce and serve. I can't wait to share some photos, but if you are looking for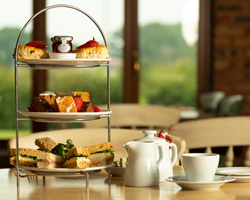 professional photography, then Matt Saunders comes highly recommended from myself and the Marketing Team here. Here's a little preview showing off one of our Afternoon Tea stands. Makes you want to tuck right in!
Lastly, please continue to brave the roadworks and come and see us. They're expected to run until November and are a bit of a pain, but we remain dedicated here to welcoming you with a smile and serving fantastic produce and refreshments.
Until Next Time,
S.B.