Well firstly, I hope that you haven't missed me too much! I haven't done an update since February and it feels as though those months have just flown by.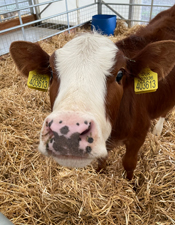 We have of course held our Easter event since then, which is always a crowd-pleaser. After two years of not holding it due to the pandemic, I was very glad to see chicks hatching once again at Becketts. It's an annual tradition which dates back to even our smallest Farm Shop, when Dad was running the business and farming chickens. What is lovely, is that we now have parents visiting the event, who remember coming to see the chicks at Becketts themselves when they were kids! I do hope that if you brought your kids, grandkids or even just yourself that you enjoyed the event too. It's great to have the support of Hollytrees Animal Sanctuary each year, who send a selection of their animals 'on holiday' to us for the fortnight!
If chicks hatching is our spring spectacle, then I think our sunflower fields are fast becoming our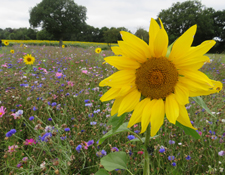 summer spectacle. A new tradition and a marvellous sight to bring to Wythall each year. The fields were planted earlier this month and we're hoping that they'll be in bloom from late July/early August. This is very much in the hands of nature though. The marketing team here are keeping our website and social media pages up to date with the sunflower progress, so do check out our Facebook page or keep popping back to the website. If you drive past regularly enough though, you won't fail to notice when they're in bloom! That sea of yellow is hard to miss.
Last week I was invited to open the new 'Morning Mile' running track at Meadow Green Primary School. We helped to fund the track as a business. Myself and Beth, from our marketing team met with the headteacher, Mr Jones and the Junior Leadership Team (made up of some of their wonderful pupils). We chatted to the children about the track. They were so happy to have such a great new installation in the playground! The track is 150 metres, and they knew that to run a mile they needed to do just over 10 laps. One little boy has managed 8 laps, which is a superb effort I think. My rounds of golf work out at about 4 miles, but I didn't fancy proving myself by running 40 laps!
At the end of April, we FINALLY celebrated my fathers' 90th Birthday (on his 92nd!). My Dad's 90th celebrations were put on hold right at the start of the pandemic. Dad wanted something quieter than what we originally planned in 2020. So, we invited 25 Nuffield Scholars, whom he has sponsored over the years. We enjoyed sharing farming knowledge, with tours of the farms and other local and historical points of interest. There was of course amazing food too. We chose to have 'bowl food' rather than a sit-down meal.  The concept is great for mixing and mingling with guests. Unlike a three-course sit down, having lots of smaller portioned courses served in bowls to carry easily allows guests to swap tables and talk to a range of people. It worked brilliantly!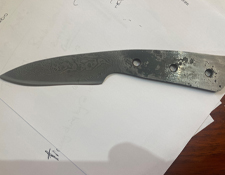 I have a friend who buys me just the most amazing experience presents for my birthdays, and this month I repaid the favour. We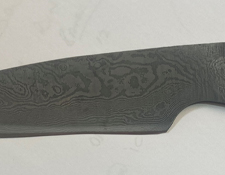 went together to a knife making course where I was able to forge my own knife. I used Damascus Steel, which is a type of steel made from a folding technique. It's folded repeatedly, to build up strength but also makes the blade look really unique! I just need to make a handle for it, then I will be able to use it in my kitchen.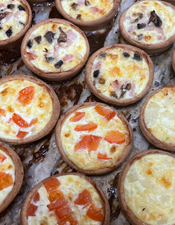 Of course, this week marks the Queen's 70th Jubilee Celebrations and what an achievement! With an extra couple of days off I hope you might pop in for a bank holiday breakfast in our Restaurant. The Farm Shop is also stocked with the usual Great British picnic staples – quiches, sausage rolls, cheeses, fresh bread, fruit, scones, BBQ meats…. The list is quite endless!
Until next time,
S. B.