It has been a while since I last managed to update my news, so we have a lot to catch up on.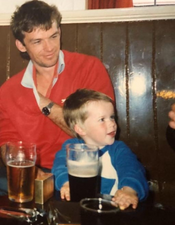 As I sit down to write this update, a message has popped up on my phone from an old friend. They have shared a "blast from the past" image of myself and Liam sat in what was the Horse and Jockey pub some 35 years ago. Sometimes these messages contain images that you never wanted to see again but this one does bring back some great memories. Don't let this image deceive you though, it wasn't Liam drinking the Guinness!
Speaking of times gone by, you may have noticed that we have recently had the front section of our main car park re-tarmacked. It was last tarmacked back in 1997, so it's amazing how long it has lasted. We can only thank you, our customers, for wearing it out over the past 27 years!
Out on the farms we have experienced a rather dry winter, which meant we were able to get ahead with some early fertilising of the crops. The farms team are now looking towards planting the sunflowers on-site. This year, we are hoping to plant 2 crops so that their season stretches out a little longer. Of course, the sunny weather last year meant we had a stunning sea of yellow for a while longer than usual. With the new strategy, we hope to see "miles of smiles" again this year!
The developments team have moved onto their next project at Wood End Farm in Earlswood, where we have recently purchased some land. We are converting the barns there to residential properties as we did at Fulford and hope to have them complete by the end of 2024. More updates to follow.
Since we last caught up, I've visited London twice. Once was to watch Only Fools and Horses in theatre, which had me in floods of tears from laughter. Coming home the following day, I bumped into Sir David Jason who was flying his helicopter from High Wycombe, talk about coincidences!
My second visit to London was to see Abba Voyage. The show was incredible and made up of holograms of Abba and a live band. I defy anybody that can tell me who is real or not whilst watching it. It was only when the "real" Abba came out on stage at the end of the show that reality hit me that they weren't performing live. It certainly is a show I would recommend to any Abba fan.
Most recently, I enjoyed watching the England v Scotland Six Nations Rugby match at Twickenham. It was the first time I had been back to the stadium to watch a match since before Covid and although we lost, the atmosphere was second to none and quite incomparable to watching it on the sofa at home!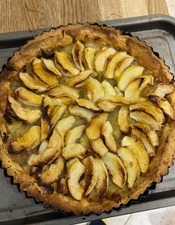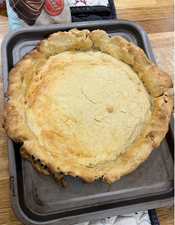 If you're a regular here reading my news, you'll know that I enjoy spending time in the kitchen and recently tried my hand at an apple pie. It may come as a surprise to you that this was the first time I have ever tried making one! For my first attempt, it was delicious and didn't last long at all. Although I'm sure the bakers here in our Farm Shop would say theirs are better!
On site, our events team are busy planning the annual Easter event "There's Something Hatching at Becketts".  It's set to be a fun-filled event for the whole family and will be open 10am to 3pm daily between the 1st and 16th April.  Our Farms Director, Geoff, has just informed me that our goats have given birth to their kids. I hope you will enjoy meeting them, along with the other baby animals very soon.
Until next time.
S.B.