It is always said that us farmers are never happy with the weather. Although the glorious sunshine has put a smile on many faces, we (or should I say, our sunflowers!) are longing for some rain! Despite their name, this hot weather hasn't been helping the sunflowers' cause of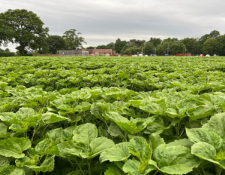 late. Weeds, however, thrive on the dry weather we've been experiencing and have been suffocating the growing sunflowers. Fingers crossed for few showers over the coming weeks so that we can open our field up to you all very soon. As ever, we won't be charging any entry fees, only asking for voluntary donations to our chosen charity where you can.
It has been great to see so many friendly faces around site recently. Many of which getting in the BBQ supplies! Our Butchery team have been working hard preparing lots of tasty BBQ options so be sure to give them a visit next time you're here.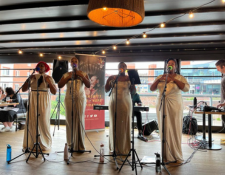 We recently visited Bank in Birmingham for some Sunday lunch. I can honestly say that it's not every day that your lunch is accompanied by live gospel singers! The food was delicious, but the unexpected entertainment was truly spectacular.
Last week, Liam came to visit from South Africa along with his wife, Eluned and son, Reiley. Though we catch up on the phone regularly, I can never comprehend how much Reiley has grown until they visit, which is rather scary. We had a great week catching up and enjoying a few days out together.

During his visit, my daughter Holly got married. Leading up to the big day, Holly told me she'd like to surprise Chris by singing Amazing Grace and asked if I'd sing the fourth verse. It was only after I agreed that I disclosed I didn't actually know what the fourth verse was! We spent hours sending numerous emails back and forth as I attempted to learn the lyrics. Thankfully, I did, and it's been stuck in my head ever since!
It truly was a great day spent with friends and family. I wish them both a lifelong of happiness together.
As we enter the summer months, we are fast approaching harvest season. We have recently purchased a new combine harvester, a Claas 730 Trion. Each time a new machine arrives, I get that "kid in a sweet shop" feeling.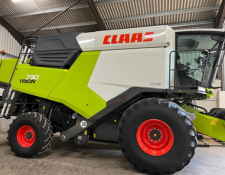 Though they are certainly not toys, it simply amazes me how advanced and clever these machines are built nowadays. They always seem much bigger too! The cutter bar is 30ft long and the grain tank holds a whopping 11,000 litres of grain at any one time. Next time we catch up, I expect that the harvest will be complete. Fingers crossed for dry weather and plain sailing!
Until next time.
S.B.