Becketts Sunflower Field has certainly proved itself popular again this year. The sunflowers were in a different field this year, sadly the seeds in the field opposite the A435 didn't do quite as well as anticipated. However, that is true British farming for you! After a wet planting season and an invasion of slugs and jackdaws the sunflower field was officially announced open by lovely customer Lauren on Friday 27th August.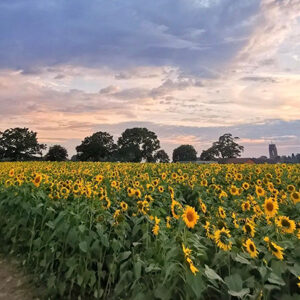 Lauren's mum Tracey contacted us back in April to explain how Lauren had saved a bee on the pavement outside their house. They often shop with us at Becketts, and as Lauren has such an appreciation for bees,  what better way to open our sunflower field than to invite her to cut the ribbon!
Fundraising
We don't charge for entry into our sunflower field, however this year we asked for donations to NHS Charities Together. We want to say a huge thank you to everyone who took time to donate. A whopping £980 was raised!
All the donations we received are so important to us in supporting the NHS. Its amazing to be able to appreciate all their hard work, especially over the last 18 months.
Photo Competition
We loved being able to see loads of amazing photos on our social media pages, by using the #beckettssunflowers. This year we held a competition for the best photo, whereby the winner receives a £100 Farm Shop and Restaurant voucher!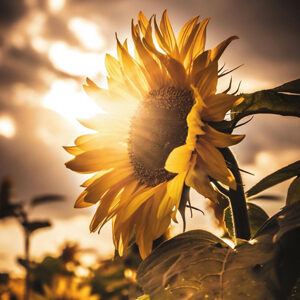 There is no more appropriate person than Farms Director, Geoff to choose a winner. After much deliberation, he chose the winner as this beautiful photo from Adam on Instagram.
Sunflowers will return!
Sadly, the sunflower season isn't very long and therefore the field is now closed for the year. We truly hope to bring back this popular attraction next year for you all to enjoy. It brings a smile to so many faces, staff members and customers alike. To keep in the loop of all our sunflower updates and other latest news, be sure to follow us on Facebook and Instagram – @beckettsfarm. In addition to this, you can sign up to our newsletter where you will be the first to know any Becketts Farm news and offers. Sign up here.