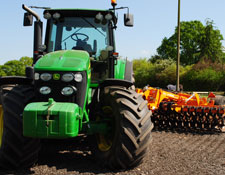 All is safely gathered in for another year, and we have begun re-planting out in the fields. I bet you can guess how I am feeling about the weather! Miserable. These are not good conditions for farming. My grandfathers' old farming diaries often tell a similar story around this time of year, rain unexpectedly hampering efforts across the farmland. Unfortunately, I don't think it's something us generations of farmers will ever quite accept, the unpredictability of the English weather.
However, in positive news, through visits to our sunflower field we were able to donate an amazing £980 to NHS Charities together. It was so brilliant to see so many enjoying our sunflower field and we definitely hope to grow them again in 2022. Wythall really is the centre of the universe and the generosity of the local community to this cause is a wonderful thing.
For the first time in 9 years we have office space to let at Rumbush Farm in Earlswood. This is a 3000ft2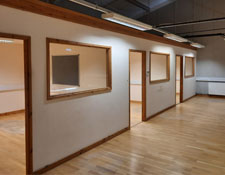 unit. If you're interested in more information or know of a local business that might benefit, then please see further information on the website here or get in touch with Adrian.
This month I have enjoyed a delicious meal with my family at Opheem in Birmingham which was very special. It serves fine dining Indian cuisine – absolutely worlds away from your usual Indian restaurant and traditional curry dishes. We toasted a recent family occasion and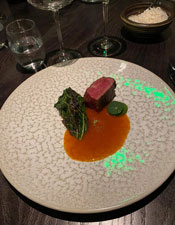 enjoyed catching up over some truly delicious food. The service was second to none. I would very much recommend it as one to try!
Our own Restaurant has just launched a brand-new menu. After all the uncertainty of last year, and working to a reduced menu in order to find our feet once more, the team have been very excited to bring a full menu back to fruition. Head Chef, Scott has been passionate about both keeping firm favourites and reinventing the menu with some really innovative menu items!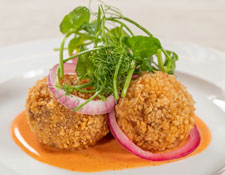 Try the new pulled pork bon-bons as a lighter bite, or one of the broken omelettes which you can have with fillings of your choice. I hope you'll dine with us soon to enjoy a meal from this menu that the team have worked hard to create. See it here.
Every year people seem to plan their Christmas get-togethers earlier and earlier. You'll also find online our Festive Lunch Menu for 2021 as well, which will launch in December. I'll say no more now about Christmas for now but keep an eye out over the coming couple of months for turkeys, gift hampers and much more.
Give our brand-new Facebook page a follow for more information!
Until next time.
S.B.