Our stock of Becketts Farm honey is back in store, and it flies off the shelves so quickly each year. Produced under two miles away from our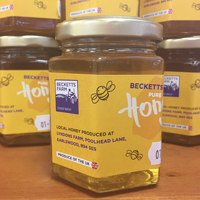 store on our farmland in Earlswood, this really is local honey in every sense of the word.
Beekeeper, Andrew draws the honey from a small colony of bees just down the road from here. On average a bee travels less than a mile from its hive for food, so the honey is produced from the nectar of local plants and flowers.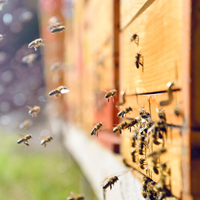 For many beekeepers, June sees the first honey harvest of the year. Over the next few months, there is a boom in honey harvesting as the bees will have been making the most of summer blooms, collecting the all-important nectar.
This sweet treat should be enjoyed in moderation. However, throughout the ages the health benefits of honey have been researched, debated and contested. From antibacterial properties in wound healing (it was used to treat wounds in WW2), to skincare; claims of alleviating hay fever symptoms, to antioxidants for improved heart health this golden nectar has its fair share of good press.
On the Farm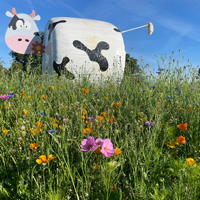 Each year, we sow wildflowers and vetches (clovers) across many parts of our headlands (the areas around our fields where we plant our main crops). Last year we planted 8 miles of headland. That's the equivalent distance of a dual carriageway from the Farm Shop to the centre of Birmingham! The flowers include borage, poppies, oxidaisies and sunflowers. If you travel along the A435 northbound towards the Farm Shop, you will notice a sea of yellow and blue wildflowers which are absolutely beautiful to look at and of course, loved by the surrounding wildlife.
The wildflowers that we have invested in support bees that play a vital role in our environment, pollinating not only the crops to ensure yields are healthy for food production but also encouraging other important vegetation in our countryside for us to enjoy.
Let's get cooking
Honey is a natural sweetener, which is perfect for using in both baking and cooking. Unlike refined sugar, honey is has a bold colour and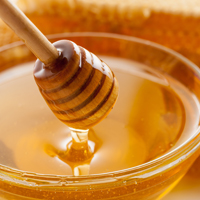 flavour which leaves your bakes richer. Speciality honeys such as manuka or wildflower honey can add an extra pop of flavour, which is great for using in biscuits or subtle cakes. However, the possibilities for plain, local honey are endless – from cakes and breads to honeyed chicken wings and the classic honey roast ham, it proves to be a tasty base for many foods.
When using honey in baking, its rich properties leaves your bakes magnificently moist. One of my favourite bakes during the summer month are these Honey and Raspberry Flapjacks. The sweetness of honey against the tangy raspberries create the perfect balance. They are ideal for eating on the go for a mid-morning pick me up.
Honey and Raspberry Flapjacks
Ready in: 35 minutes
Makes: 15
Ingredients
375g porridge oats
185g butter
185g light brown soft sugar
125g raspberries, frozen
5 tbsp honey
Method
Preheat the oven to 200C. Prepare a square baking tin by lining with baking paper. Use a saucepan to melt the butter, sugar and honey along with a pinch of salt. Stir continuously so that it doesn't burn. Once melted and bubbling, stir through the oats.
Tip the mixture into the prepared tin and press down with the back of a spoon. Roughly place the raspberries over the top and gently press them into the oats.
Bake for 30 minutes, or until golden brown. Leave to cool before cutting into 15 squares.
Top Tip: Using frozen raspberries stops the fruit from bursting within the mixture. Purchase British raspberries from our Greengrocers and freeze them ahead of time to use in this recipe.