Summer is currently among us! The sun is shining, the BBQ's are on the go and the kids are out of school! Meanwhile Becketts Farm is providing you with amazing NEW products perfect for the summer. Our family orientated Farm Shop provides the highest quality products. Ranging from the freshest fruits and veg, to juicy meats and to vast variety of cakes suited for a sweet tooth's dream.
Becketts Farm Shop has now brought out new products that will satisfy all members of the family, including those who are gluten free, have a passion for cooking or those who just enjoy to indulging on amazing sweet desserts.
Tempting new flavours from Bennetts Ice cream
For many years Becketts Farm Shop have sold a variety of flavours from Bennetts ice cream, which have always been a massive hit in the summer. Bursting with flavour, this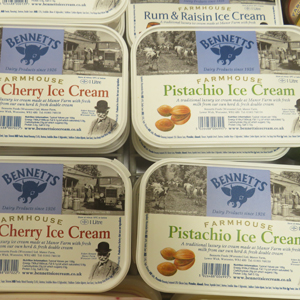 premium ice cream will ensure you keep cool in the intense heat and keep the whole family happy! Their vast selection of traditional and contemporary flavours just got even better! Only down the road in Worcester, this reliable and friendly producer are now introducing new flavours of cherry and pistachio! Moreover, these new flavours are suitable for vegetarians and those who are gluten free and taste absolutely incredible! These delicious new flavours are available in large tubs for an amazing price for such high-quality ice cream.
Check out Bennetts Ice cream website for more information about their fantastic range of traditional and contemporary flavours!
Gordon Rhodes Meal Kits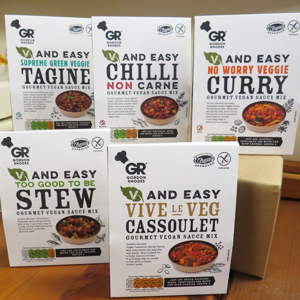 Firstly, do you fancy some quick and easy cooking? Secondly, do you want to maintain bursts of flavour and taste tingling sensations?  Award winning Gordon Rhodes is the food package for you! Gordon Rhodes was an intrepid traveller who searched the globe for the finest ingredients and delicious recipes. Becketts Farm Shop are now stocking his brand-new gluten free food packages! The 'V and Easy' range includes 5 flavour packed, gourmet vegan sauce mixes – Vive Le Veg Cassoulet, Chilli Non-Carne, No Worry Veggie Curry, Too Good To Be Stew and Supreme Green Veggie Tagine that have been designed with slow cooking in mind.
Sadler's Peaky Blinder Cider
'By order of the Peaky Blinders' you must try Sadler's new Peaky blinder rhubarb cider! This full bodied, premium Herefordshire style Cider with deep caramel flavours from a blend of traditional Cider apple varieties is blended with real rhubarb juice with a hint of strawberry. It pairs perfectly with spicy and salty flavours, seafood and sharp cheeses. But also great with Summer strawberries dipped in chocolate. This year's summer heat is unpredictable, therefore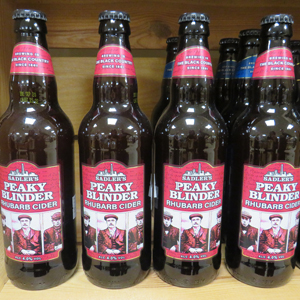 stocking up the alcohol supply is a must for when the hot weather arrives and the bottles are flying off the shelf, ready for the BBQ! True fans of the hit TV show The Peaky Blinder's wouldn't miss a chance to taste these brand-new flavour ales and feel like true Brummies!
Our own cheddar cheeses
One of Becketts Farm's features is the wide variety of cheeses that are sold in our Farm Shop. With over 130 cheeses to choose from, Becketts have gone and extended their range by stocking new and improved cheddar!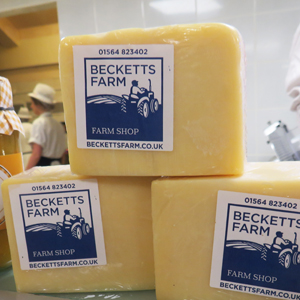 Produced exclusively for Becketts Farm, we are now selling an excellent vintage flavour cheddar cheese. In addition, our new cheese has been matured for a minimum of 12 months ensuring a strong, rich flavour. To further enhance the taste, try Mrs Darlington's variety of chutneys or even create your own ploughman's platter like our Becketts Restaurants famous ploughman's plank platter!
Do you fancy tasting our homemade Ploughman's Plank?
Book a table online to reserve your table at Becketts Restaurant!
New summer sauces from Mrs Darlington
Voted best preserve brand in 2016-2017, Mrs Darlington's homemade jams, chutneys, pickles and curds are positive
to boost the flavour in your cooking. They ensure a delicious taste that is 'made with love' as Mrs Darlington would say! Becketts Farm Shop is now stocking new products including fruity brown sauce, tangy tomato ketchup and beetroot ketchup. Perfect for a morning fry up! Becketts Restaurant's famous 'Old Faithful' breakfast would be complimented perfectly by these delicious sauces which are bursting with flavour. If you fancy recreating our award-winning breakfast, we stock the sausage, bacon and black pudding at our butchers!