I've not long returned from a well overdue break, spent in France. We visited Versailles, Avignon, Bordeaux, Brest and Lake Geneva to name a few. I enjoyed some delicious food and wine and took in some stunning scenery. The natural wonders of the world never fail to amaze me, and a sunset like the one we saw at Lake Geneva one evening is just enough to stop anyone in their tracks. It was absolutely stunning.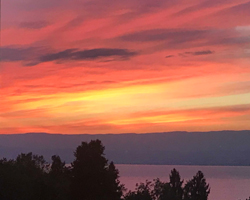 I enjoyed many incredible seafood dishes too, for example the most amazing fish soup at a restaurant called Le Paillard. I also ate skate for the first time in my life and I was so pleased with it. It's a really meaty fish and it was cooked to perfection, I thoroughly enjoyed that.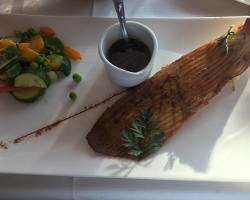 Back at home and I am currently having a little work done to my house. It's involving lots of DIY, which in this heat is not at all fun, but hopefully the ends will justify the means. Part of the work will open the view at the back of the house so I can look out on the beautiful countryside here. Until then, I'll have to grin and bear the amount of brick dust that settles on just about everything!
If you're braving the roadworks and travelling down the A435 from Redditch direction, take a look in the final field before the slip-road into Becketts car park. We've planted sunflowers in there this year to encourage bees and other insects. When harvest time comes around we'll be selling the sunflower seeds in the pet food section of the shop for birds.
From last 15th July we began charging for carrier bags as instructed by the government. I think we can all agree that the 5p bag charge no matter where we shop, has been a huge positive. In our Farm Shop alone, we've seen an 80% reduction in just one year in the amount of carrier bags we are giving out. The implications of this reduction of single use plastic for the environment are a positive step forward. We continue to look at the feasibility of new packaging options and other areas of the business where we can reduce our environmental impact. The carrier bag charge money amounts to around £3000, and this will be divided between local charities and good causes. I'll share news of those charities in next month's blog post.
Yesterday, the final unit in the warehouse onsite was opened by Enfield Sports Ltd. who are our newest tenants. They sell a range of sporting goods and I am told are the largest regional supplier of archery equipment. We hope they'll find locating their business here very successful.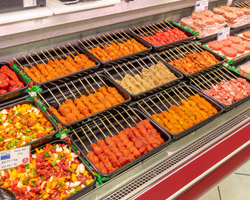 Do come and see us during the summer months and especially pay a visit to our butchers counter. They stock a fantastic range of BBQ meats and Mark and the team are extremely friendly and helpful. Don't be scared of your local butcher – they're much friendlier than the supermarket shelf!! Enjoy a chat and get their expertise on cooking times and methods. The lamb and mint burgers come highly recommended from me.
Until next time
S.B.