Perfect gift hamper packing is an art form and in this blog we'll help you learn the basics by sharing some tips and tricks.
Everyone loves to receive a hamper, especially if it has been thoughtfully put together with 'them' in mind. A personalised gift, where it's clear that lots of time and love has gone in to preparing it is a truly wonderful surprise.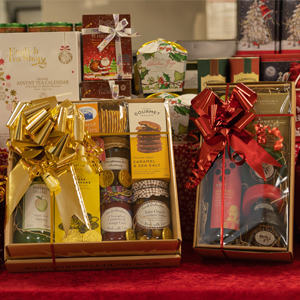 Did you know our hampers team in the Farm Shop will put together close to 1000 perfect gift hamper boxes throughout December alone for festive gifting!? Their talent is unmatched, and we really recommend paying them a visit in the Farm Shop for a fantastic food and drink filled hamper to gift to that special someone this Christmas.
If you'd like to have a go at making your own at home though, here are a few top tips and secrets, for packing the perfect gift hamper for underneath the tree!
Planning
First, put together some ideas for what you'd like to include. Think carefully about what your chosen recipient loves best; their hobbies, favourite flavours, colours, cuisines, and anything else that comes to mind.
Here are some of our ideas below:
Cheese lovers hamper
Include cheeses, chutney, speciality crackers and even a chopping board or cheese knives set. If they enjoy a tipple too, then a bottle of English red wine or port adds a splash of luxury.
Top tip: Hard cheeses are best for hamper packing, as soft cheeses will be easily crushed. Our favourite cheeses to include are the range from Snowdonia which are in the form of waxed cheese truckles. The wax layer helps protect the cheese in the hamper and they come in such a delicious range of unique flavours!
Christmas sparkle
The pop of a cork on a bottle of fizz is a distinctly Christmas-y sound if you ask me! Include English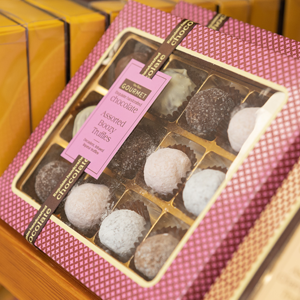 sparkling wine, locally produced orange juice (for bucks fizz with brekkie!), fancy treats such as chocolate truffles or French macarons and a pair of flutes.
Ale Adventurer
If you know someone who's serious about their craft ales and ciders, then include a selection of ales that perhaps they've never tried before. You can also include the all important snacks to go with the beers. Think posh crisps, pork scratchings, nuts and pickles.
Sweet Tooth
Jam-pack your gift hamper full of delicious sweets, biscuits and cake! You could even theme your hamper around a certain colour, because sweet packaging is usually bright and eye-catching. Our team have previously made colour themed hampers for events such as Macmillan Coffee Morning (green) and Breast Cancer Care (pink). It's so pleasing to see a themed hamper like this come together!
Gardeners Gift
Though it is what we specialise in, a hamper needn't be all about food. Include gardening gloves, twine, plant markers, seeds and handcream. We'd say a packet of biscuits and luxury tea bags wouldn't go a miss either after all that hard work!
Arranging
Once you have your items you'll need a box, tray or basket. If you're doing any online shopping in the lead up to Christmas why not carefully unbox your order and reuse the packaging for a hamper. Cover the box in some recyclable wrapping paper, and fill with shred for a more eco approach to hamper making. You can even save bulking material like polystyrene chips, shred and bubble wrap to help you with your arranging.
To pack:
Split your items into categories. Heavy and large items, smaller items and favourite items (which you'll want to display prominently).
Start with any larger or heavier items. These may need to be buried or hidden a little, but that just adds an element of extra surprise as your lucky recipient digs into their treasure box of treats.
Once the heavier items are in position, add the smaller items to fill in gaps, positioning your favourite items at the front.
Try to prop items up a little at an angle. It's useful to have extra shred/bulking material to help you do this as you go along.
Don't be disheartened if the arranging takes more than one attempt. Hamper packing takes some patience and perseverance to get the desired look!
Wrapping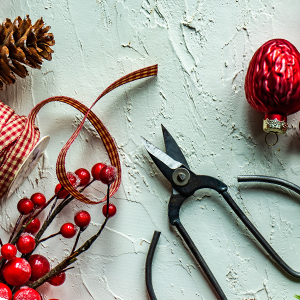 Wrap your hamper with cellophane or shrink wrap and finish with a bow and gift tag. You can be creative with your decoration using homemade finishing touches with pine-cones, dried orange slices and spices such as cinnamon sticks and star anise.
And, that's a wrap!
We hope you have fun creating your hamper, please pop in store for some unique and unusual treats to fill it with. And, if you're short on time or would prefer one of the experts to pack your hamper of chosen treats from our Farm Shop then of course, we'd be delighted to do so. Or, you can order a pre-made hamper for Christmas, here.