The 9th October marks Beer and Pizza Day, a national celebration that we think needs marking! Pizza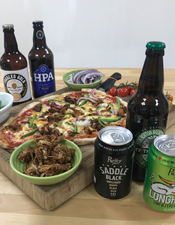 and beer are such a winning combination, especially lager, which has a hoppy, bitter edge with a touch of sweetness. It is best matched with salty foods, like pizza!
If you're looking for a quick, easy and totally delicious pizza, why not try our recipe for GIANT naan bread pizza.
We've been serving these up in the office for lunch this week and we just can't get over how well it works. Using the giant naan breads by the Leicester Handmade Naan Bakery as a base, we've all commented how this speedy, cheat pizza tastes better than any supermarket pizza you could buy and really takes no longer to make.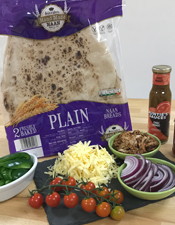 The naan bread gives a crisp, bready base with a hint of sweetness. Top with anything you like, but we really recommend trying it topped with Asian inspired ingredients like tandoori chicken, fresh red onions and peppers and even a dollop of mango chutney or some onion bhaji.
We used simple passata for the tomato base and grated Fowlers mature cheddar as our cheese. You could try a chilli cheese option, which we sell on our Delicatessen counter.
We used plain naan bread, but also stock garlic naan and spicy chilli naan from Leicester Handmade Bakery as well. These would work really well too.
It's a great recipe that the whole family can get involved in creating and with 2 giant naans per pack there's plenty to go around.
Stock up on beers from our range of delicious local craft lagers, ales and stouts, sold in the Farm Shop. For the kids, there are some great juices and speciality fizzy drinks to make them feel like one of the 'grown-ups'!
Naan Bread Pizza Recipe
Ingredients
1 pack Leicester Handmade Naan Bakery Naan Breads (includes 2 naans)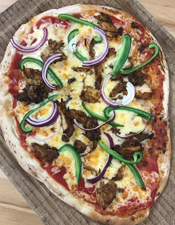 350g passata
200g Fowlers Mature Cheddar, grated
1 red onion, sliced
1 green pepper, sliced
200g cooked chicken breast, spiced or flavoured if you like
Method
Place each naan onto separate baking trays.
Divide the passata between the two breads and spread evenly with the back of a spoon to cover, leaving about a centimetre gap at the edges.
Sprinkle the cheese evenly over the bases.
Add your chosen toppings.
Bake for 15-20 minutes until the cheese is bubbling and the edges of the base are crisp.
Enjoy being creative with your toppings! Our Farm Shop sells a range of cooked meats, local and international cheeses, fresh vegetables and marinated olives. You'll also find plenty of dipping sauces and chutneys to dip or top your pizza too.