I begin my news with talking like a typical farmer who moans about the weather, whatever it is doing! It is either too dry, too hot, too cold and this month it has been too wet!! That has not stopped our farming team from being busy though! It is a constant effort to upgrade our farms and last month we invested in some new signage. We have also re-tarmacked Poplars Farm and at the same time we have installed some speed bumps. Interestingly speed bumps come with a mph rating. These are rated 5mph and even at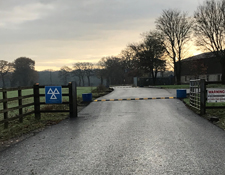 such a slow speed, they jolt you around.
The barn conversions at Fulford are very much still on-going and we are pleased that the water supplies have now been installed. There have also been some trees planted up the driveway which will make a great entrance feature.
42 specimen trees have now been planted in my back garden too! I would say my favourite is the ornamental pear. These seem to hold their leaves a lot longer and they have lovely shades of green. It will be a few years until they are fully grown (around 20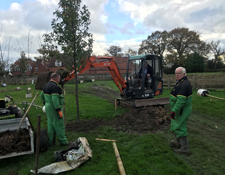 years) but they will reach around 12 metres high.
Whilst we are talking gardening, I speak like I am an avid gardener however, I'm not! But a good friend of mine planted a raised bed for my 60th birthday (3 years ago now). It houses this great ball tree and lots of reed plants – it makes for a great picture particularly with the oak tree in the background.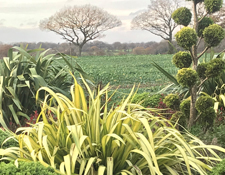 I have very much mixed emotions about the news regarding the new tier system as of next Wednesday. Becketts Farm is part of Worcestershire meaning we fall under tier 2 however, two miles down the road at my house I have been placed into tier 3. A little frustrating as we went into lockdown as tier 1 yet come out as tier 3. Anyway, there must be some method in the madness and we will continue to follow the government's advice and hope for some better news in two weeks.
On a more positive note, Christmas is coming and technology never ceases to amaze me! I have discovered that you can turn such a beautiful picture into a jigsaw puzzle! A little hint at a Christmas present I have purchased this year!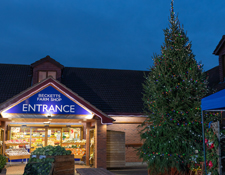 Moving forward into December and the whole site is gearing up for the busiest time of year. Our 20ft Norway Spruce will be arriving on Monday which is certainly a statement piece to the entrance of the Farm Shop. Shop local this year and indulge yourselves in the finest locally sourced meats, groceries, cheeses, fresh bread and so much more. Our Farm Shop is decked out with so many Christmassy goodies to enjoy with your family throughout the festive period.
By the next time I next get chance to write, it may well be that Christmas Day has already passed. So on behalf of everyone at Becketts Farm, I wish you a truly wonderful Christmas and here's to a brighter New Year. Please stay safe and take care of you and your loved ones.
Until next time. S.B.