Farming is going very well this month and the dry weather is compensating for the wet weather and flooding that we had last month. As farmers we are all so aware of just how changeable the British weather can be, and we're never quite happy with it either.
In the nice weather I've been out mowing the lawns, I find mowing lawns really cathartic and I love it when you manage to get some stripes in there too.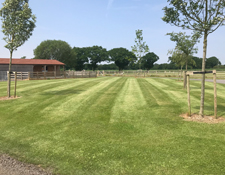 The skies over the Wythall area have been treating us to some amazing sunsets recently and they really make me appreciate working in agriculture and being in the countryside. They say "red sky at night, shepherds delight", and with the sunny weather set to continue for a good few days yet, it's safe to say we can believe this old saying!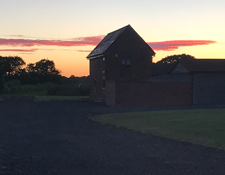 Earlier this month I attended the wedding of our Marketing and Events Manager, Hannah and her now husband Josh. It was a really lovely occasion and the service was very enjoyable.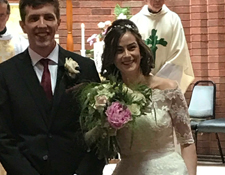 Weddings are in the air at the moment and I have the wedding of a close friend next Friday. I often get some weird and wonderful requests, but this particular friend asked to borrow a field for her wedding, in which they are having tents attached to double decker buses – photos to follow in next months' news.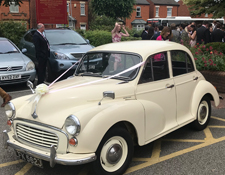 I am currently looking for tenants interested in rental space on site. The unit which used to house SIMA warehouse will be split into multiple units. It's the first time in a long time that there have been multiple units up for rent, and there are some potential new tenants in the pipe-line including a flooring company and a company who make commercial blinds.
On Monday, I and some other representatives from Becketts Farm attended the Midlands Food, Drink and Hospitality Awards. We were delighted to walk away with the 'People's Choice' award for the second year running, a real testament to the hard work and dedication put in by the whole team here. This particular award is the only one of the night to come down to public votes alone, so we owe this also to our wonderful customers who get behind what we are trying to achieve here at Becketts Farm. Despite the elation of winning the award, I felt that the entertainment provided on the night didn't match the occasion one bit, seriously lacking gravitas. Maybe I'm just getting a bit too old and miserable but I prefer a more traditional awards ceremony than the loud, informal one that was delivered on Monday evening. Celebrating the hard work and dedication of the food and hospitality industry is so important and the evening showcased the best of the best in the Midlands region, so a huge congratulations also, to the other winners and category finalists – it's an exciting industry to be part of.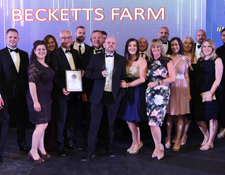 Until next time.
S.B.