These last three months have certainly been challenging ones to say the least, however this beautiful sunny weather that we continue to have has certainly helped boost everybody's moods including mine!
However, our farmland that is full of crop and grain is desperate for some rain. In previous monthly newsletters I have expressed how the ground is wet, wet, wet, this time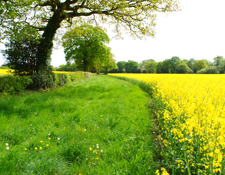 round I am expressing how dry, dry, dry the land is, typical Farmer talk. If it could be sunny throughout the day and rain during the night, then everyone will be kept happy!
I am pleased to see that many of our onsite partners are beginning to open back up.
Onsite partners that are open include;
Crystal Car Wash
American Golf (driving range only)
Intelligent Shading (by appointment only)
Hollywood Beds (by appointment only)
Shirley Aquatics (store is open as well as a click and collect service)
Wythall Tyres
Doodle Togs (online business)
Although our Restaurant remains closed, our Coffee Shop is now open serving takeaway drinks and cakes. Perfect to enjoy in this sunny weather. The Farm Shop remains open and with regular deliveries it remains well stocked. For more information and to see opening times take a look here. I would like to take this opportunity again to thank you all for your support and loyalty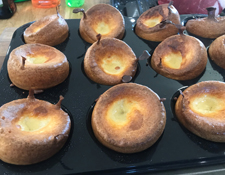 to us, during this extremely difficult time.
On a personal basis I have been busy perfecting my cookery skills. I have made my very own souffles, Yorkshire puddings and the best homemade chips! For my birthday in May I was gifted a Tefal Chip Fryer. This is out in my garage as it is a little smelly when using. But worth it as the chips taste amazing. Following the cookery themed birthday gifts, I also had some Le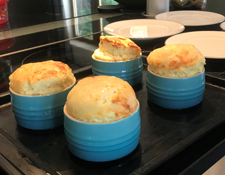 Creuset souffle dishes brought for me too. I have already tested these out and have made delicious vanilla souffles as well as cheese souffles for a friend's birthday, their ultimate favourite!
Pre lock down I had been taking flying lessons, I was hoping my next news to you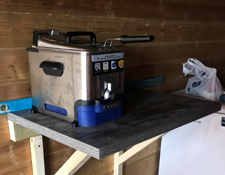 would be that I'd passed my final exam and could fly solo however its been a bit of a bumpy ride with everything going on! I am pleased to say I passed my penultimate exam and I am now waiting for the good news to say it is safe for me to complete my flying lessons and take my final exam, I'll keep you posted!
Where possible we try to support charities, sport clubs and community events, particularly if they are local. As well as food and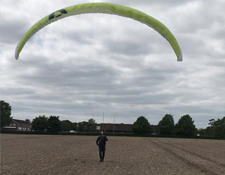 money donations sometimes, people approach us to borrow our land. We have recently allowed a local gentleman who is practising and gaining experience in how to control his hang glider, you may spot him in the field opposite the A435. Sadly, we are yet to enjoy a little sport however Woodrush Rugby Club have been tackling some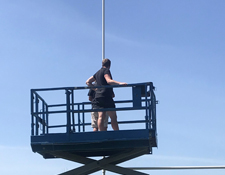 maintenance jobs including re painting the posts! This is them borrowing our scissor lift to get to the top!
Until next time, stay safe and take care.
S.B.