We've had a full month and a bit now with our Restaurant back open. It's a slow and steady return to normal and the last 18 months have knocked people's confidence for sure. We're trying hard to help build people's confidence back up, by doing all we can to ensure safe visits to our venue.
One example is that our usual Sunday Carvery has been changed to a plated roast. Seeing the carver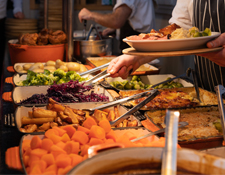 y become redundant is quite sad in all honesty! It was a real Becketts Farm staple, but I doubt the appetite for food served openly like that will return any time soon. The chefs have done a marvellous job of adapting and the same brilliant roast dinner is now served plated. They're plating the same high-quality roasting joints from the Butchers counter, a superb selection of veggies to accompany and all in generous portions. Customer feedback so far has been excellent, so we adapt and change to suit the new way of the world. The banner across one of our Restaurant beams reads "A family farming business moving with the times", and we've certainly done an awful lot of that this past year. Let's now see what the 19th July brings.
I'm interrupted in my newsletter musing and writing by a call from my son, Liam in South Africa, who swiftly tells me off for forgetting to call him, as promised. We've just had a great catch up. What on earth would we do without modern day communications? I can't understand (I'm sure the IT gurus know) why phone signal between two phones in Wythall is dreadful, and yet I can speak to Cape Town via Whatsapp call with crystal clear sound quality.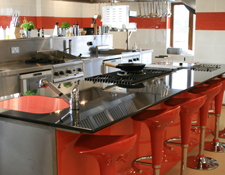 Back to the updates and we're hoping to get the Cookery School here back up and running over the next couple of months. We have a new Manager coming on board with us to look after the running of it, so once we're back on our feet expect some brand-new cookery courses, team building options and more. Whilst some other cookery schools across the country have already reopened their doors, the dining element is so important to us that we're delaying things a little longer until participants are allowed to sit together round a table. Hopefully I'll have more news on reopening in next month's newsletter.
Next month too, I'm going to be starting some ballroom dancing classes. When I was 9 my Father insisted on sending me to ballroom dancing lessons, so I do have some experience, albeit from 50 plus years ago! I'll let you know how I get on.
Many of you are asking after our annual sunflower fields, which are quite a spectacular display. As I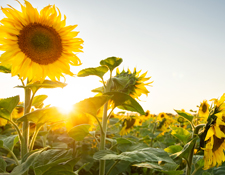 mentioned previously there have been challenges this year with the crop. The field that you can see when you travel down the A435 which was in bloom with them last year by July-time is currently a sea of yellow, but this is just a pretty weed called charlock. There's a second field planted with sunflowers closer to Chapel Lane at the back of the Farm Shop site, which is currently holding a little more promise. Just as with the oil seed rape earlier in the year, its very much a case of "We'll have to wait and see" – something you get very used to farming in the UK climate!
With nice weather on its way and many wonderful sporting events back on the tele, please remember to shop local with us for BBQ meats and bits and pieces for picnics.
Until next time.
S.B.