Despite the pants weather, to put it politely, we have managed to plant almost all next year's crop which is always a relief. The coming months tend to go a little quieter for the Farming team but their time is always used wisely and they have enjoyed getting creative over the last few weeks! You'll soon spot a giant poppy in our field opposite the A435 in celebration of Remembrance Day and 100 years of the poppy.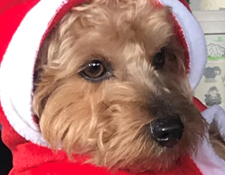 Christmas is just around the corner. As we get closer to the festive season, I've been instructed to get some Christmas cards made! Here is Geoff suited and booted in his Santa suit, sadly he isn't available for hire!
Time very rarely stands still these days. In fact as you get older it seems to speed up don't you think? A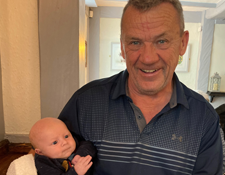 friend I've known for many years surprised me with this little bundle of joy over the weekend and suddenly, my mental age that remains at 18 goes up and I remember how time flies.
I am still very much enjoying flying when the weather is pleasant of course. I recently took some friends of mine for a flight to celebrate their 60th wedding anniversary. We flew over Ragley, Redditch and over where they farm. These flights are certainly more memorable when I have passengers on board. As the saying goes, it is always nice to be nice. One of the amazing things about flying is having the view of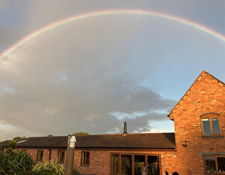 elliptical rainbows. From the ground we are unable to see the full circular rainbow, and even though I didn't fly through this one, it was too pretty to not take a photo of it.
I was recently at a party where I got chatting to some friends I hadn't seen for over 40 years! One conversation led to another and to cut a long story short, I ended up purchasing this beast of a motorhome. Luckily, I carry a heavy goods license which is required to drive this coach. My respect continues to grow for coach and lorry drivers. However, after a spontaneous trip to Scotland and back, I've quickly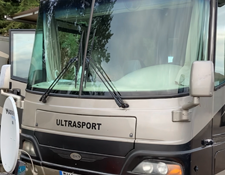 realised that the coach motorhome adventures aren't for me.
I was certainly surprised and saddened to hear the news that Giovanni's in Dickens Heath has closed. I have enjoyed many delicious Italian meals over the years and Giovanni has always looked after us very well. The exciting news is, we now have Giovanni as a guest Chef on our Italian Cookery Courses in the Orange Kitchen. You'll now have to work a little harder for your Giovanni's fix, by cooking it all yourself. Giovanni will share lots of his culinary secrets with you so you can perfect a range of tasty Italian dishes.
Follow our new Facebook page for more information on our Christmas festivities.
Until next time
S.B.