If you're in our Farm Shop early enough in the morning, you'll have noticed (and maybe stood and watched) our team of bakers working to knead, mix and bake fresh breads.
But did you know, tucked away just around the corner the theatre continues with our amazing team of confectioners? Our confectioners are responsible for making and decorating the sweet treats stocked at our bakery. From cream cakes to cupcakes, traybakes to tarts, they have their work cut out with over 60 different type of treats on their list to make.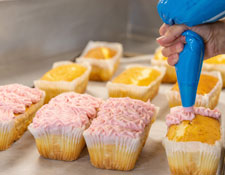 So much of  what we bake is still by hand, with the help of some large electric mixers and the odd piece of small machinery that we couldn't live without. Like, 'Clive' the cream whipping machine!
Sam heads up the team with 9 years of experience in confectionary. His team of Emily, Fay, Ellie and Megan (not forgetting Clive) are ready for work at 5:30am. There's a long day of baking, piping, topping, filling, sprinkling and icing ahead.
Emily tells us that the first task is always coffee and who can blame them with such an early start!
"We need a coffee because the bakers have already been in work for a good few hours when we arrive, and they are very raucous by that time of morning! Someone always goes to get the coffee round quickly so that we can tolerate all the shouting and singing from the bakers!"
Ours is the kind of bakery you might remember from your local high street as a child. We hope to evoke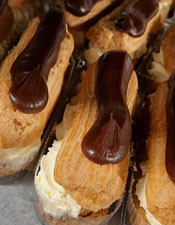 those sort of memories and keep the tradition of baking from scratch alive!
Our eclairs are generously hand-filled with freshly whipped cream and topped with a glaze of glossy chocolate.
Our Macaroon mixture is mixed in small batches, hand-piped and topped with a sprinkle of almonds and baked to perfection.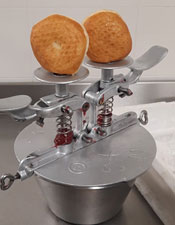 Becketts Farm donuts are made from scratch, rolled in sugar and filled with jam using a special piece of equipment which cleverly measures and fills the correct amount of jam into each donut.
We do 15 different flavours of luxury cupcake, each with unique toppings, sprinkles, and surprise fillings! Every one delicately made by hand.
We also make celebration cakes to order, so as well as keeping the counter stocked the team are also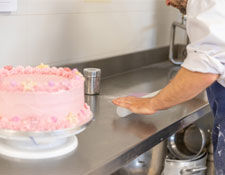 perfecting these for your parties.
Help from others on the counter is not unusual too. Especially when our lovely customers clear the shelves so quickly! Nearly every member of the bakery team can jump onto the confectionary station to help get a new batch of cupcakes, traybakes or cream cakes back on the counter. It makes working on the Becketts bakery counter more varied, fun and co-operative.
We asked each of our confectioners what their favourite task is, here's what they said:
Emily – "My favourite sweet treat to make are the coconut drops, especially drizzling the chocolate on top and even pinching the odd cherry!"
Sam – "I love creating bespoke celebration cakes, each cake is different and nothing is ever a challenge!"
Ellie – "My favourite cake to make is the chocolate concrete, it reminds me of stories from my family about their days at school."
Fay – "The best part of my job is decorating cupcakes. It's great that we create so many different flavours, and I quite enjoy seeing people stuck for choice when they are trying to choose!"
Megan – "My favourite task has to be making brownies. Why? Brownies are so yummy and the smell of them baking is just divine."
And which of our sweet treats from the confectionary is your favourite to eat?
Emily – "That's a tough choice! If I had to choose, it would definitely be the cream egg brownie. I love cream eggs, and brownie is always a winner, so when they are combined it certainly tastes heavenly."
Sam – "My favourite treat is a cream donut, sometimes I fill it with a little extra cream and jam!"
Ellie – "I also love the cream egg brownie, the run up to Easter is my favourite time of the year because it means we are making them all the time!"
Fay – "My favourite cake is the caramel and cranberry slice. The creamy caramel combined with the tang of cranberry is just delicious."
Megan – "I enjoy most treats that we produce, but if I had to pick one to eat right now, I would choose a caramel slice."
So, next time you bite into an Oreo cupcake or blow the candles out on a farmhouse cake we hope you enjoy it just that little bit more knowing the hard work and love that has gone into creating it!