Our thanks to Hollie Coyne, Director at our newest onsite partner, Gina Lou Bridal for this guest blog. We hope you enjoy it! 
~~~
Planning a wedding can be stressful! Add to that the pressure to find the wedding dress of your dreams, it can leave you overwhelmed – we get it! We know exactly how you are feeling and are here to share our expert tips for finding the perfect wedding dress. With our tips you will be able to stress less, smile more and work on the rest of your wedding to-do list!
Set a budget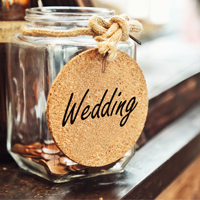 We wish this part didn't exist, but it is a very important thing to consider before going on your search for a gown. Sit and work out exactly how much of your wedding budget you want to spend and whether that includes accessories. We can then help you find your dream dress that is affordable and tailor your appointment to your budget. We wouldn't want you falling in love with a gown above budget. No matter the budget there are an endless number of beautiful gowns out there to choose from with price tags to match! We also want you to be honest with us. It gives us an idea of what the options are and which of our beautiful gowns to show you!
Start shopping 12 – 18 months in advance
Every bride is different and where on your journey you begin searching for your dream dress can also vary, but we recommend around 12 months before your big day to take any pressure off your search! Lots of brides will book a venue and begin their dress shopping experience straight away. That is absolutely fine, but your taste can change too, so if your wedding is three years away we'd recommend looking closer to the time! We do like our brides to have booked a venue first and have thought about your theme – this gives us a great idea of style so we can find the perfect dress for you to complete the wedding 'look!
Just to note… although we recommend a 12-18 month lead time for finding your wedding dress if you have less time we can usually accommodate bespoke rush orders. Our leading designers' order times are usually around the 6-month mark, so if you are tight on time please get in touch as this is something we would love to discuss in person ahead of your appointment! We are here to make your dress buying experience stress free!
Use social media to do your research
Instagram is our favourite tool to look for dress inspiration and using the app to find out what you initially like (and dislike) is highly recommended. Another social media site to use is Pinterest; create a board of everything you love so you can begin to narrow down choices and create a wedding theme! We love you to come to your appointment with ideas and it's helpful to nosy and discuss through anything you already have with you before we begin looking at gowns! We'd recommend following wedding blogs, your favourite wedding gown designers, and bridal boutiques to give you inspiration. This is the best way to find secret sample sales and to hear about the nearest trunk shows to you.
Choose your bride tribe wisely
This is something we advise you to think carefully about. You want a supportive bridal party that will let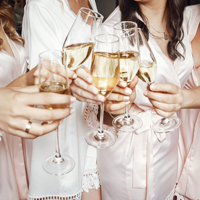 you take the lead and won't upset you if you completely fall in love with a dress that they aren't keen on! We'd also recommend thinking of if anybody is going to help pay for your gown. Do they need to be there to see the gown before ordering? If so, is it worth taking them along to all appointments? For example, if you fall in love with a dress that's off the hanger (maybe due to discontinuation) you run the risk of losing that gown if you don't purchase it on the day!
And finally, if you need to, go it alone! Don't feel embarrassed about trying them on by yourself if you are happy to make the decision alone. We love independence and sometimes you then will go with what you truly feel yourself and not be swayed by other people's reactions! We are here to make you feel and look beautiful and we promise to find the perfect gown for you.
Have a list of questions ready for your bridal consultant
There is so much excitement in choosing your dream dress, that sometimes all of the practical things go completely out of thought. So, we recommend coming along with a list of questions for us that only your bridal consultant can answer. These could include things like, how long does it take for your dream dress to be made, how alterations work, can the dress be custom made, what accessories would we perfectly pair with your gown, the best way to travel with your gown and will your dress be steamed before the big day? There's an endless number of things you can ask us and we'll always do our best to help or accommodate.
Appointment prep – The minefield of underwear, make-up and hair
This is the most common question we're asked… what underwear do I wear for my appointment? This is completely up to you and what you feel most comfortable in; we'd recommend a simple pair of seam-free nude knickers, you won't need a bra as most, if not all, of our dresses have cups already in them! However, if you want to wear a bra, we recommend a nude strapless! Please don't feel the need to go out and buy new underwear for your appointment if you don't already have these, as we will recommend the best-suited underwear for your dress on your wedding day once you have chosen your dream gown.
As a bridal hair specialist, we might be biased but we feel it's important to style your hair in a similar style to how you think you would like it on the day! Even if it's as simple as you think you'd like your hair up so go with it in a bun, or if you'd like it down, wear it down. This will help give you an idea of how the gown will look, but of course, this could all change based on your gown! We do offer joint appointments for this where you can book to have your hair styled before trying your gown on.
Next, makeup…this is a tricky one. You want to feel like you, so go with how you feel comfortable. Most brides go for very simple makeup on their wedding day so bear this in mind when putting your makeup on before going to try gowns!
Forget about sizing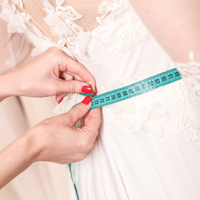 The elephant in the room! The way wedding dress designers make you feel! In all seriousness, this is something we feel very strongly about at Gina Lou and we more than likely won't share the size of your gown with you. Wedding dress designers are well known for sizing on the very small size, they are often based on overseas measurements, so conversion makes sizing appear small. When we order your gown for you, we take your own measurements and order based on those.
We do not recommend you thinking about this shopping experience like your usual high street afternoon shop. These dresses are custom made or altered to your exact shape, unlike off the peg clothing you usually buy from your favourite high street shops.
Keep an open mind
After hours of research, you are certain which style of dress you'll go for. You get into a boutique and try it on, and it's not quite right… This isn't uncommon when shopping for your gown, so we like to remind brides to keep an open mind, select between 4-6 dresses to try and don't be scared to ask for our opinion, we are here to help! Tell us what you love about your body and what you usually hide, we may have tips to help you find your dream gown and may even select one out for you! Dresses always look so different on models and definitely look completely different on the hanger so be open-minded about the dresses you try! It's often the way that you'll fall in love with the gown you least expect to.
Focus first on finding the best wedding dress silhouette for you
Details are important—a long row of teensy pearl buttons and well-placed lace can mean the difference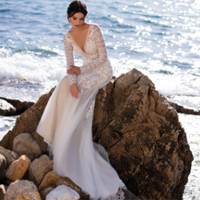 between a good wedding dress and the perfect one. Focus on your personal style and what flatters you most. A long, stunning wedding dress with a flowing train is to die for, but remember that the top of your dress is what people will notice most—and what will show up in most wedding pictures. The majority of wedding photos that guests take of you are from the waist up.
DO try on as many wedding dresses as you need to…
…but DON'T try on too many wedding dresses.
Every dress will look completely different on a hanger. Once it is on a woman's body, it takes on a different shape and look. We're not trying to confuse you here—we just mean that you shouldn't feel forced to try on more or fewer gowns than you want. We recommend trying on 5-6 gowns to begin with to understand which style and shape suits you best. Too many choices and too many places can add stress and confusion. Nine times out of 10, you will go back to your first boutique and order your favourite gown anyway, so our advice – go with your gut.
We would love to make your wedding dress shopping experience as exciting and as stress-free as we can. Head to www.ginaloubridal.com to book your appointment or contact us at brides@ginaloubridal.com with any queries.
Why not tie in your Bridal appointment with a delicious afternoon tea for two with your 'bride tribe' at Becketts Farm Restaurant? Click here to view the menu and book.