Christmas has been an absolute blast and now feels like a distant memory, but don't worry about the January blues because we've got some fantastic recipes to blow them away.
These healthy and delicious recipes are full of vitamins that will give you a spring in your step this year.
These fantastically versatile recipes could son be your firm family favourites. With minimal preparation and maximum flavour, try making these dishes ahead of time for a perfect packed lunch.
Quinoa & Feta Salad with Roasted Vegetables
This Quinoa & Feta Salad with roasted vegetables makes a great lunch or easy dinner as it can be prepared ahead of time. Full of vitamins and nutrients this dish is fresh, delicious and healthy. Try roasted cauliflower for a nutty and crunchy twist.
Serves: 4
404 Calories per serving
Ready in: 1 Hour
Ingredients
200g Quinoa
3 tbsp Olive Oil
1 Red Onion, thinly diced
2 Peppers, Red, Yellow or Mixture, deseeded and cut into chunky long wedges
200g Courgette, halved length ways
3 Garlic Cloves, unpeeled
1 Lemon, zest and juice
Pinch of Sugar
Flat-Leaf Parsley, a handful roughly chopped
200g Feta Cheese
Method
Cook the quinoa following pack instructions, then drain well and set aside.
Meanwhile heat oven to 200°c/180°c fan/gas 6. Toss the onion and peppers with 1 tbsp of oil and season on a roasting tray, then roast for 15 mins.
Toss the courgettes and garlic with the rest of the veg and roast for another 15 mins.
Squeeze the roasted garlic cloves out of their skins and mash with some seasoning. Stir in the remaining oil, lemon juice and zest and season with sugar to taste. Drizzle over the quinoa and toss together with the roasted vegetables and parsley. Crumble over the feta, toss gently again and serve.
Healthier Chinese Chicken Curry
Who said you can't enjoy a delicious Chinese curry while you're being good this year? This recipe tastes just like your own favourite takeaway, but without the calories to match, at only 264 calories per portion. Visit our Butchers counter for some high quality, British Chicken.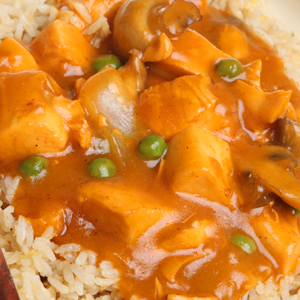 Serves: 4
264 Calories per serving
Prep Time: 55 Minutes
Ingredients
4 Skinless Chicken Breasts, cut into chunks (or use thighs or drumsticks)
2 tsp Cornflour
1 Onion, diced
2 tbsp Rapeseed Oil
1 Garlic Clove, crushed
2 tsp Curry Powder
1 tsp Turmeric
½ tsp Ground Ginger
Pinch Sugar
400ml Chicken Stock
1 tsp Soy Sauce
Handful Frozen Peas
Rice or Noodles to serve (Optional)
Method
Toss the chicken pieces in the cornflour and season well. Set them aside.
Fry the onion in half of the oil in a wok or heavy based pan on a low to medium heat, until it softens for about 5-6 minutes then add the garlic and cook for a minute. Stir in the spices and sugar and cook for another minute, then add the stock and soy sauce, bring to a simmer and cook for 20 minutes. Blend everything up and blitz until smooth.
Empty and wipe out the pan and fry the chicken in the remaining oil until it is browned all over. Tip the sauce back into the pan and bring everything to a simmer, stir in the peas and cook for 5 minutes. Add a little water if you need to thin the sauce. Serve with rice
Texas 'Caviar'
This South Texan dish makes the perfect side or even the base of a good salad. With fresh zesty flavours and packed with vitamins, it's guaranteed to keep you full and feeling good. With such a simple recipe there really is no reason why you shouldn't try this.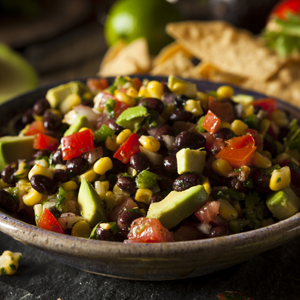 Serves: 16
107 Calories per serving
Ready in: 30 min
Ingredients
1/2 Onion, thinly diced
1 Green Bell Pepper, chopped
1 Bunch of Green Onions, chopped
2 Jalapeno Peppers, chopped
1 Tablespoon Minced Garlic
500g Cherry Tomatoes, quartered
225ml Italian Dressing
500g Black Beans, drained
1/2 Teaspoon Ground Coriander
1 Bunch of Fresh Coriander
1 Ripe Avocado (Optional)
Method
Mix all ingredients together except the fresh coriander, cover with cling film and refrigerate for at least 2 hours. Before serving toss with the desired amount of Fresh Coriander.
Chocolate and Berry Mousse Pots
If you think that delicious chocolate puddings have to be heavy and devilish, then you should definitely try this pudding. Using low-fat yogurt keeps this delicious pud to under 160 per serving!
Serves: 4
160 Calories per serving
Prep time: 20 Min
Ingredients
75g 70% Dark chocolate, grated
4 tbsp Low-Fat yogurt
2 large Egg Whites
2 tsp Caster Sugar
350g Mixed Berries (try blueberries, raspberries, cherries or a mix)
Method
Melt the chocolate in a heatproof bowl over a pan of simmering water, making sure the bowl doesn't directly touch the water. Once melted, allow it to cool for 5-10 mins, then stir in the yogurt.
Whisk the egg whites until stiff, then whisk in the sugar and beat until stiff again. Fold the whites into the chocolate mix – loosen the mixture first with a spoonful of egg white, then carefully fold in the rest, keeping as much air as possible.
Divide the mousse in to glasses or ramekins, then top with the berries. Chill in the fridge until set.