The work at Fulford Barns is complete now and the properties fully let. It's been a huge project with lots of involvement from our team and external contractors. I'm very pleased overall with the outcome and the finished properties. Here are some of the team moving the machinery away. The end of one project and on to the next!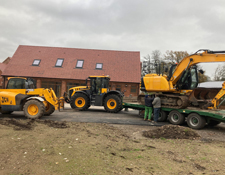 One of my favourite times of year is Bonfire night. Earlier this month I gathered a few of my friends and family together for some fireworks. We managed to make a great frame this year for the fireworks to keep things safe as ever.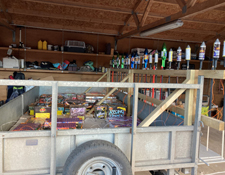 Now that bonfire night and November have passed, attention turns to Christmas. I was in Covent Garden earlier this month and saw the spectacular tree which is supplied by our friends just down the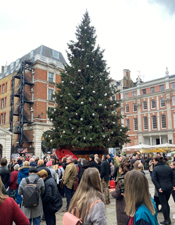 road at Woods Farm. Woods Farm supply our Christmas tree too at Becketts Farm Shop, and as I write this some of the maintenance team have taken delivery of it and are busy adorning it with lights! A job that I do not envy with an 18ft Norway Spruce.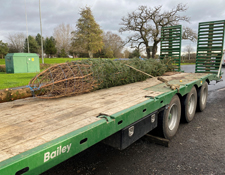 I am very much about giving the team here autonomy to run with their own ideas and product buying choices. Each and every Christmas they wow me with their ideas and creativity. They are closest to our customers, and they know what sells and what doesn't.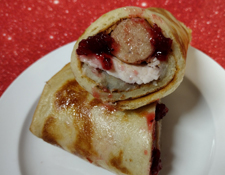 Our Hot Food Counter have taken their turkey and cranberry baps to another level this year by offering the same filling in a giant Yorkshire pudding wrap! These have had the taste test in the office and come highly recommended. They flew out yesterday when they made their debut on the counter.
Fresh turkey orders are still being taken. So, if you've still not got that job ticked off the list then get in touch with Mark and his team today. The Caldecott family farm the turkeys in Wythall. You really can't get any more local than that for your Christmas table this year.
Our gift hampers team continue to astound me with the selections they put together, and who doesn't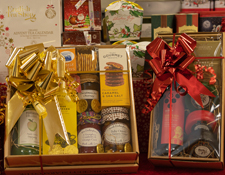 love a food and drink filled hamper to delve into on Christmas day? With hundreds of orders already in the books for them, we've employed an extra 'elf' to ease the load a little.
Head Chef, Scott has put together a delicious festive menu in the Restaurant which will launch next Monday 6th December. I hope we can welcome lots of familiar (and new!) faces to enjoy a festive get together in the Restaurant. Our Cookery School will host new courses this festive season too. A Christmas Dinner and Christmas Desserts Masterclasses next week, the latter of which has a few last spaces remaining. You can book that online, if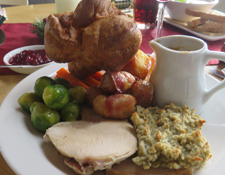 you want a showstopper centrepiece to rival Mary Berry's on Christmas Day!
The likelihood is that I may not write another installment of my blog until after Christmas Day has passed. Therefore, I would like to take this opportunity to wish you a wonderful Christmas. Enjoy spending time with family and friends, pop and see us this December and take care of yourselves. Thank you very much for your continued support throughout yet another strange year for us all.
Until next time,
S.B.