On 7th April 2020 the Beckett family celebrate a very important day. Company chairman, Alan Beckett celebrates his 90th Birthday. In true 'This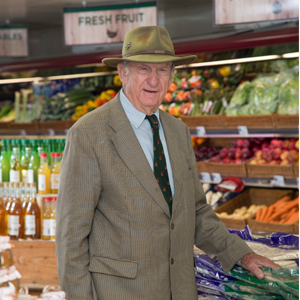 is Your Life' style, here's our 'Big Red Book' blog post. We've included some facts that may surprise you about our company chairman.
Born in Halfway House, Shropshire in 1930, to Albert and Dawn Beckett, he was their eldest child and subsequently inherited, grew and shaped this family farming business into what it is today.
Sadly, the present pandemic has meant that the celebratory parties and gatherings to mark the occasion have needed to be postponed. Nevertheless, as a team we wish Alan a wonderful milestone birthday and look forward to celebrating properly in the not so distant future.
If you are a regular customer, you may have seen Alan in our Farm Shop and Restaurant, where he still very much has an active presence. Alan's generosity is appreciated by so many in the local community – his kindness a trait passed on from his father, Albert. Alongside bigger gestures and donations for the good of this community, the simple things count too, and he is well known to surprise families with a complimentary cupcake for their little one when he's in the Farm Shop. A lovely parallel to his Father, who during his own retirement in the Spanish village of Alhaurin de la Torre, was known affectionately by the local children as 'Senor de los caramelos' because he always had sweets to give to the children he met in streets.
A lot has been packed into 90 years. Did you know?…
Alan has an MBE
He was awarded this prestigious accolade by her majesty, The Queen in 1987 for his services to agriculture.
He climbed to base camp Mt Everest
Certainly one of his greatest achievements, Alan climbed to Mount Everest Base Camp in 1988. An amazing physical feat and truly a once in a lifetime experience.
Head of the Beckett family
Alan heads up a large and vibrant family. It is no mean feat keeping 6 children, 14 grandchildren and 6 great-grandchildren in check!!
A Nuffield Scholar
In the late 1950's Alan obtained a Nuffield Farming Scholarship. He spent three months travelling in the USA and is certain this laid the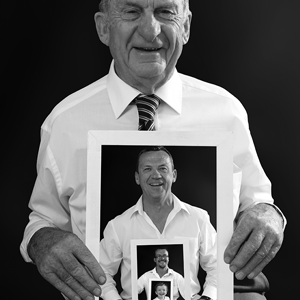 foundations for his success in business. He himself now sponsors Nuffield Scholars, a total of 23 to date. Alan is a keen supporter of the important work which they do to broaden horizons in agriculture. Nuffield Farming Scholarship are a worldwide organisation and the Beckett family are the only family in the world to have three generations complete a Nuffield Scholarship trip.
Wedding celebrations in a chicken shed!!
As only a farmer could, Alan's second wedding celebrations were held in a chicken shed! The space was cleared, cleaned and dressed for over 200 guests. This egg-stremely unusual wedding reception hit both local and national newspapers.
Alan cycled John 'O Groats to Lands End
With his wife Anne, Alan cycled on a tandem bicycle from John 'O Groats to Lands End. The usual way to cycle this is actually south to north, but Alan being Alan chose to do it the other way. It was a huge miscalculation. The south westerly winds and rain blew in their faces for 9 of the 11 days of their journey. No half measures, another great physical achievement!
World Traveller
Alan is an avid world-traveller and still loves to go abroad when he can. The Beckett family have until recently owned farms in Spain and America, and these two countries are two of his favourites. He often flies to South Africa to see grandson, Liam and great-grandson, Reilly. He will continue to travel for as long as he remains fit to do so.
Alan created this limited company
Alan's father, Albert moved the farm from Shropshire to Wythall. In the 1960's Alan took charge of the farm and was the person who registered A. E. Beckett & Sons as a limited company.
He built the first farm shop at Becketts
'Becketts Farm' is renowned as a Farm Shop and Restaurant to today's locals. Whilst the farming side of the business continues to operate, farming over 1000 acres of land, Alan was the first to build a farm shop. Many of our customers who've grown up in the village and surrounding areas remember Alan's first farm shop as 'the garage at the side of the road'. This 'garage' sold eggs fresh from the farm, and was expanded firstly by Alan, but most notably by his son Simon, who took over the business in 1995.
An active Freemason
Alan is a freemason like his father and uncles before him. He has twice been worshipful master of his lodge and has committed much of his time to the freemasons and charitable work over the years.
***
What a jam-packed 90 years so far. Happy Birthday Alan, we look forward to the belated celebrations!